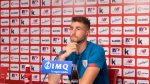 After renewing his contract with Athletic Club until 2025, goalkeeper Unai Simón appeared in Lezama's press room after the first-team squad's morning training session. The shot-stopper expressed his happiness and satisfaction at being able to continue with Athletic for the long-term future.
"I'm extremely happy to be able to stay here for five more years," Simón said. "Since I arrived here, the club has instilled in me its values and philosophy, and what I've always wanted is to be the Athletic Club goalkeeper. That's been my dream since I was little."
Simón explained that renewing without having a release clause included in his contract was a form of showing gratitude towards the club for they way he has been treated since he joined.
"It's a way of showing appreciation for everything Athletic has done for me since I arrived as a 14-year-old," Simon said. "They've not only formed me as a footballer but as a person.
"I was found a home in which they looked after me like I was their own child, they put me in a secondary school that gave me an education, they've given me teammates with whom I enjoy being around… all those things are worth a lot.
"I've only ever known Athletic, but I don't think another club would have done as much for me as Athletic have. And this is my way of showing appreciation and it's also a show of mutual trust."
The lions' no.1 also reaffirmed that his only interest during contract negotations was to extend his stay at Athletic.
"I told my agents that my priority was renewing my contract with Athletic and I knew nothing about offers from other clubs. I'm sure there will have been some, but they never reached me because everybody knew what I wanted," the keeper said.
He added: "My thought when signing was to be playing until the end of my contract, and hopefully I'll be playing here until the end of my career."
In addition, Simón reflected on Athletic's chances for the upcoming 2020-21 season and expressed his belief that Athletic have a lot to look forward to, even though he would prefer it if the fans could be there too.
"We're going to be participating in four competitions, we have the Copa final, which we're really excited about, the Super Cup, this year's Copa and LaLiga," he commented.
"We're excited about the season ahead, and although we know that we can't start it with our fans, throughout the season will be hoping to share it with them in San Mamés. They deserve to be there and they're also responsible for what we're experiencing with the final of the Copa del Rey and the Super Cup."
Signing a new contract was not the only highlight of Unai Simon's day yesterday, he was also called up to the Spanish national team for the first time in his career.
"I'm very happy because it's shows I worked well last season," Simon said of the call-up. "On a personal level, I'm in a good place after what was quite a complete season for me.
"To receive a call from Luis Enrique is very satisfying and is the cherry on top of the cake after a good season. It's a beautiful moment I want to enjoy and I want to learn from all the players I'm going to find there."
+