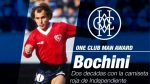 This week, Ricardo Bochini, one of the great idols of 70s and 80s Argentinian football, will cross the Atlantic. Always loyal to Club Atlético Independiente, Ricardo will receive the 2022 One-Club Man award during Athletic Club's match against Valencia CF on Saturday (16:15 CEST*).
He is scheduled to arrive to Bilbao on Friday. He will hold a press conference in San Mamés at 18:00 before taking part in a talk organised by the Athletic Club Foundation one hour later.
The Athletic Club Foundation, on the occasion of its 20th Anniversary, has organised a very special day to launch its 2022 Letters and Football festival. Two universal figures of football and literature, Ricardo Bochini, winner of the One-Club Man award, and Eduardo Sacheri, winner of the 2016 Alfaguara Award, will talk about the Club Atlético Independiente legend's career and the novelist's latest book, "The General Understanding of the World".
The talk will take place on Friday May 6, at 19:00 in the evening, in the North Hall of the San Mamés BAT (VIP) ring (access next to Gate 12). Both guests will be accompanied by Argentine journalist Jorge Barraza.
Since its first edition in 2010, the Letters and Football festival has built bridges between outstanding representatives of both the cultural and the football world. Athletic Club's bestowal of the One-Club Man award to Ricardo Enrique Bochini provided the Foundation with a unique opportunity to unite two phenomena connected by a shared passion: football and Club Atlético Independiente.
Ricardo Enrique Bochini
Bochini is Independiente fans' greatest idol. Considered the best '10' in Argentine football until the arrival of Diego Maradona and Leo Messi, 'Bocha' spent his entire career with the Argentine 'red devils'. With seven titles, no other club has won the Copa Libertadores de América more times than Independiente.
Bochini, who stood out above all for being a great passer, was the architect of the club's golden age in the 1970s and was also world champion with Argentina in 1986. He retired in 1991 at the age of 37, after a 20-season-long career which included 714 games, 108 goals and more than 200 assists.
It is the seventh One-Club Man Award, and the first time it has been presented to a South American. The previous winners include Matt Le Tissier, Paolo Maldini, Sepp Maier, Carles Puyol, Billy McNeill and Ryan Giggs.
Likewise, Eduardo Sacheri's status as an Independiente fan and his enormous admiration for Bochini are well known. At the 2014 Letters and Football festival, Sacheri began his speech by reading a letter in which he reflected on the pain he felt when Independiente were relegated to the Primera B Nacional after 101 years of consecutive participation in top flight. It was a story that delved into football's role in relation to important issues such as identity, personal relationships, a sense of belonging and happiness.
Eduardo Sacheri and Jorge Barraza
Eduardo Sacheri is one of the most important living authors in Latin America, he has more than half a million faithful readers and his work has been translated into more than 20 languages. His first novel, "La pregunta de sus ojos" (The Question in their Eyes, 2005), was made into a film by director Juan José Campanella under the title "El secreto de sus ojos" ( The Secret in their Eyes, 2009) and went on to win the Oscar for best foreign film.
In 2016, "La noche de la Usina" (The Night of Heroic Losers) won the Alfaguara Award and was also later made into a film under the name "La odisea de los giles" (Heroic Losers, 2019). In his most recent book, "The General Understanding of the World" (2021), a father reminisces to his children about his involvement in a school football tournament while their on a long car journey, shared memories that serve, as is usually the case in the Letters and Football festivals, to talk about the truly important issues in life: friendship, love, family, good and evil.
Argentine journalist Jorge Barraza will join Bochini and Sacheri in the talk. Among Barraza's most well-known works are the books "Fútbol de ayer y de hoy" (Yesterday's and Today's Football, 2014) and "James en la cima del mundo" (James on Top of the World, 2014), as well as a biography of Ricardo Bochini, "Yo el Bocha; vida de Ricardo Bochini" (I the Bocha: the life of Ricardo Bochini, 2016).
Free admission and live streaming
The meeting between Bochini and Sacheri will not only delight the fans of Club Atlético Independiente, but above all, it will be an important day for all lovers of football and literature. As always in the cultural festivals organised by Fundazioa, admission will be free.
Furthermore, the talk will be broadcast live via streaming on Athletic Club's YouTube channel.
*All times are CEST