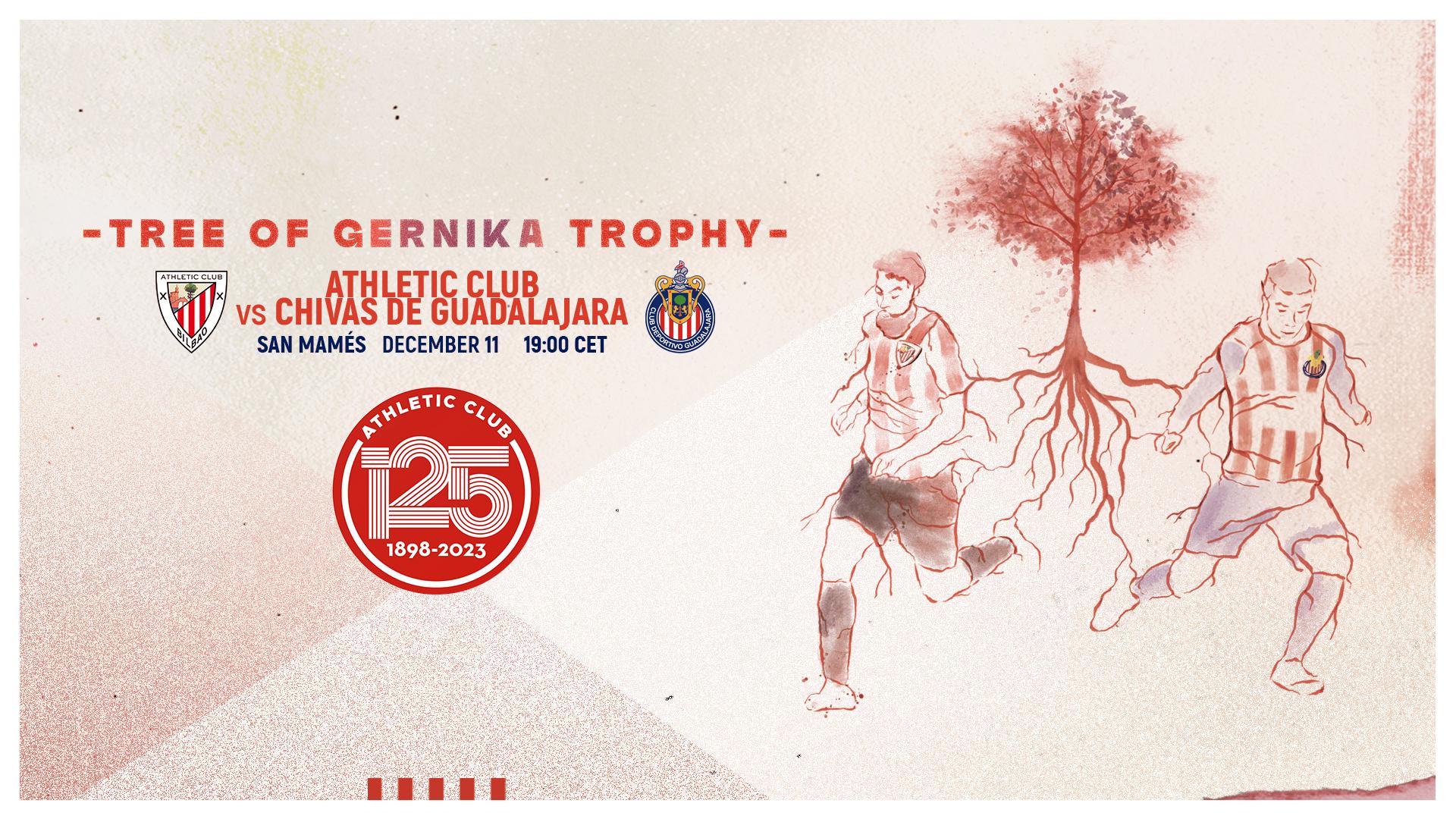 Preparations have started for Athletic Club's 125th anniversary, which comes next year in 2023. It is a time to celebrate both the founding of the Club and, above all, the continued relevance and deep-seated roots of an identity which is unique in the world of football.
As a prelude to the 125th anniversary celebrations, Athletic Club have organised the "Tree of Gernika Trophy" friendly tournament with an equally unique team: Club Deportivo Guadalajara, the top-flight Mexican side more commonly known as Chivas, a 116-year-old club that only fields Mexican footballers.
There will be two matches. The first leg will be played at San Mamés on Sunday December 11 at 19:00 CET, taking advantage of the break in domestic competition for the 2022 World Cup, while the return leg will be played at the Estadio Akron in Guadalajara on July 16, 2023.
Athletic Club president Jon Uriarte said: "It's an honour to welcome Chivas to San Mamés. It's great that this match, which has a very distinctive meaning, will serve as a prelude to the 125th anniversary celebrations."
The sentiment was shared by Chivas president Amaury Vergara, who pointed out: "I think it sends a very strong message to the football community. These two teams believe in the talent of their people and they believe in their traditions and their values."
Tree of Gernika Trophy
The Tree Gernika Trophy is a duel between two extraordinary teams whose sporting principles are governed by a loyalty to and a belief in their respective territories.
This approach was common in the early days of football and is still used in amateur sport, but in 21st-century elite sport Athletic Club and Chivas are the only top clubs that still abide by this philosophy, something which makes this two-legged friendly appealing and exciting.
Apart from the level of talent representing both sides, the added fact that two clubs united by ideas which go beyond sport will be facing each other for the first time turns it into an even more tantalising prospect.
The connections run even deeper. Cristóbal de Oñate, one of the founders of the city of Guadalajara, was Basque. Another Basque, Miguel de Ibarra, was one of the Guadalajara's first mayors and there are those who maintain that the tree which appears on the city's coat of arms is inspired by the tree of Gernika, which is why both clubs have agreed upon 'The Tree of Gernika Trophy' as the name for the upcoming clash.
Two historic teams
Nevertheless, there is no doubt that Athletic and Chivas are most alike when it comes to sporting characteristics. Neither of these two teams has ever been relegated from their respective first divisions and their trophy cabinets are full of silverware.
Founded in 1906, Club Deportivo Guadalajara, or Chivas, are one of the most decorated teams in the history of Mexican football. They have more than 40 million fans in the Mexico, the United States and around the world.
Although Athletic Club have faced the Mexican national football team twice in our history, and we have played against eight different clubs from the Latin American country, this is the first time Los Leones have had the chance to take on our most like-minded club, Chivas de Guadalajara. It is safe to say this has long been a sought-after fixture for fans of both sides.
The return leg. Mexico, July 16, 2023
The second leg of the Tree of Gernika Trophy will be take place in Mexico on July 16, 2023, with match being held at the Estadio Akron, a ground which was inaugurated in 2010 with a clash between Club Guadalajara and a Manchester United side containing former Chivas academy graduate Javier Hernández. The winner of the trophy will be decided in this second leg.
To conclude, it is worth mentioning that both Athletic Club and Chivas envision the Tree of Gernika Trophy as part of their respective internationalisation strategies, which is why they will continue to work together on an agreement between both clubs that will allow them to progress in all areas related to sports, society, economy and institution.
Tickets now on sale for Club Members
From October 6 until Sunday, October 30, Club Members can purchase tickets at a reduced price of €13 per seat in any part of San Mamés. Each Member can purchase a maximum of two tickets at this price.
The Club is also offering a 'Family Pack' option for these two tickets, consisting of a joint purchase of an adult ticket at €13 and a child ticket (up to 14 years old) at €8.
Likewise, Gazte Abonoa pass holders can also purchase tickets at the same reduced price of €13, but only in the Standing Section. Club Athletic members can purchase two tickets for any seat in the stadium with a 20% discount on the price of tickets for the general public, which will go on sale on October 31.
After this deadline, Gazte Abonoa pass holders and Club Members can continue to buy tickets at the reduced price, but any tickets not purchased by October 30 will go on sale to the general public on October 31 at these prices:
Lower tier, North and South Stands: €20
Upper tier, North and South Stands: €25
Lower tier, Main and East Stands: €35
Upper tier, Main and East Stands: €25