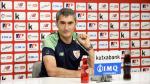 Athletic Club coach Ernesto Valverde said the Lions must "fight until the end" ahead of Sunday's clash with Real Madrid at the Santiago Bernabéu.
Athletic still have a slim shot of qualifying for the Conference League, but they will need to beat Real Madrid and hope other scores go their way.
"We have a chance and we have to fight until the end," Ernesto said at his pre-match press conference. "In football a lot is writen beforehand, but you never know what's might happen. That's the good thing about it.
"It's more difficult for us than it was a few games ago, but we have to play. We know it's complicated because of the opponent, because there are other games and because we don't depend on ourselves.
"We must focus our energy on what is in our own hands. Everything can change and it's a key match."
Despite it being a tough ask, the coach is optimistic about the match, insisting Los Rojiblancos are going to Madrid "with the intention to win".
He added: "We have trained well and worked hard throughout the week. Real Madrid have only lost once at home in LaLiga [this season] and it's a ground where you have to suffer."