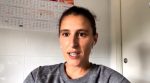 17 years ago today, Athletic Club clinched their first Superliga. On that very day, at the age of 18, Arrate Orueta made her debut in a great win against Híspalis at San Mamés. The player from Basauri had just recovered from a knee injury and was able to play her first minutes in the First Division at La Catedral, an unforgettable experience that was shared with 35,000 supporters. "It was like a prize to me. Making my debut for Athletic, at San Mamés, on the day you win the league, that's something amazing," remembered the midfielder. Orueta retired in 2015 after having played official matches, scoring 53 goals and winning four Liga titles.
"The lockdown has worked out"
At present, the ex-lioness is working as a Rehabilitation Doctor at Cruces Hospital, more precisely, she specializes in spinal cord injuries. Arrate is not living the Covid-19 crisis on the front line, but she has seen how her daily life has changed as well as the work at the Hospital and, like all her workmates, she has done her bit. "It has been a difficult situation, it was crazy, something we couldn't have imagined. We have never lived anything like this. Our rehabilitation gym has served as an ICU and that was organized in no more than two or three days. Some workmates did barely sleep for days and they were exhausted," Arrate told us. "The home lockdown has worked out and the situation is much better now," explains the health worker, who describes the labor all the staff at the Hospital are doing as "spectacular". Without a doubt, theirs has been a commendable effort.
But out of this extraordinary situation, Arrate would also like people to draw some conclusions about the role of health workers. "Those who are saving lives now will be the same next year. People will have to be patient when there are waiting lists and realise we are the same people, and will be as necessary as we are now. It is true that we've been under stress and that will have consequences in the future," she commented.
Finally, the former footballer said she knows how important football is in Bilbao and acknowledges that getting back to normal will take time. "I'd also love to see my ex-teammates in Lezama again or go to San Mamés, but I think we have to use our common sense and do things step by step. It's best for us if we follow the guidelines we are given instead of doing what we want."
+