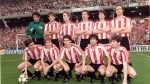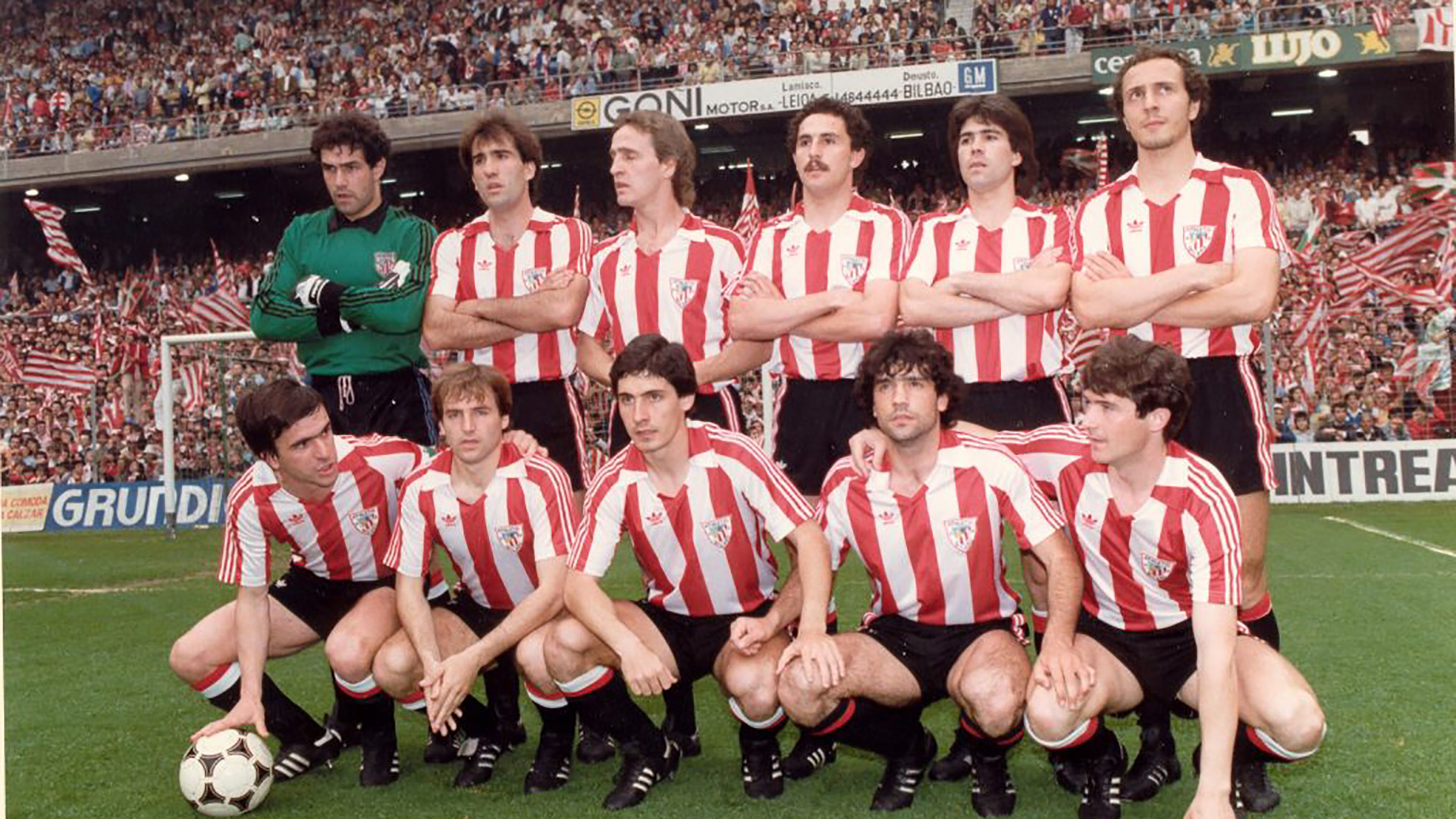 In 1984,  April 29th, San Mamés witnessed a heart attack derby between Athletic Club and Real Sociedad on the final day of the League. The lions were fighting for the League title, with Real Madrid and FC Barcelona on their heels.
Surrounded by a lively atmosphere at La Catedral, crowded as it is for big events, Athletic had to win in order to keep the lead and avoid the above mentioned teams snatching their second consecutive League conquest. On the way to the title, Athletic had to face Real Sociedad that was still looking for a place at the UEFA, a team that would fight tooth and nail for the derby until the final whistle.
Real Madrid was, meanwhile, playing in Sarriá against a RCD Espanyol with nothing at stake, while FC Barcelona was facing a difficult trip to the Vicente Calderón.
Emotion and amazement prevailed at this last day by the alternatives that were on the air in the three games that would decide the winner of the title: the early win by FC Barcelona at El Manzanares (1-2) and the temporary draw of Real in San Mamés, which coincided with that of Real Madrid in Sarriá, motivated at times the excitement of the various supporters.
However, the goal scored by Iñigo Liceranzu, better known as Rocky, and the one he already had scored the first part of the afternoon at the Cathedral, ended up with all the speculations. It was a historic doublet, as it was not only worth a League goal, but also the eighth League title in Athletic's history. Moreover, it was the 3,000th red-and-white goal scored in the League.
Everything was as it was before the start of the day: Athletic Club won the League title thanks to a private average goal for second-placed Real Madrid, while FC Barcelona came in third, just one point behind.

Athleticen hamaikakoa 1983/84 denboraldiko Ligako partida hartan; 1. Zubizarreta, Goikoetxea, De Andrés, De la Fuente, Urkiaga, Liceranzu, Dani, Sola, Noriega, Urtubi, Argote. 

San Mames Liga titulua ospatzen
Historic goals scored by the lions
Liceranzu was in charge of closing the 3,000th goal of the lions in the League. He took over from Jose Antonio Latorre, who completed the 2,000th red-and-whitegoal in 1963, on the 14thmatch day of that season against Real Valladolid. Before Latorre, it was Rafa Iriondo who closed the goal number 1,000, which was scored also against Real Valladolid, in the 1st  round of the League in 1948.

Athleticen 3.000 gola ligan, Iñigo Liceranzuk sartua 1984ko Athletic 2-1 Real Sociedad partidan
The last one to close this sequence of thousands of goals was Santi Ezquerro, in the 2004/05 season, against Real Zaragoza, in round 16th  of the championship.
Pictures: AC Museoa 
+