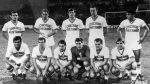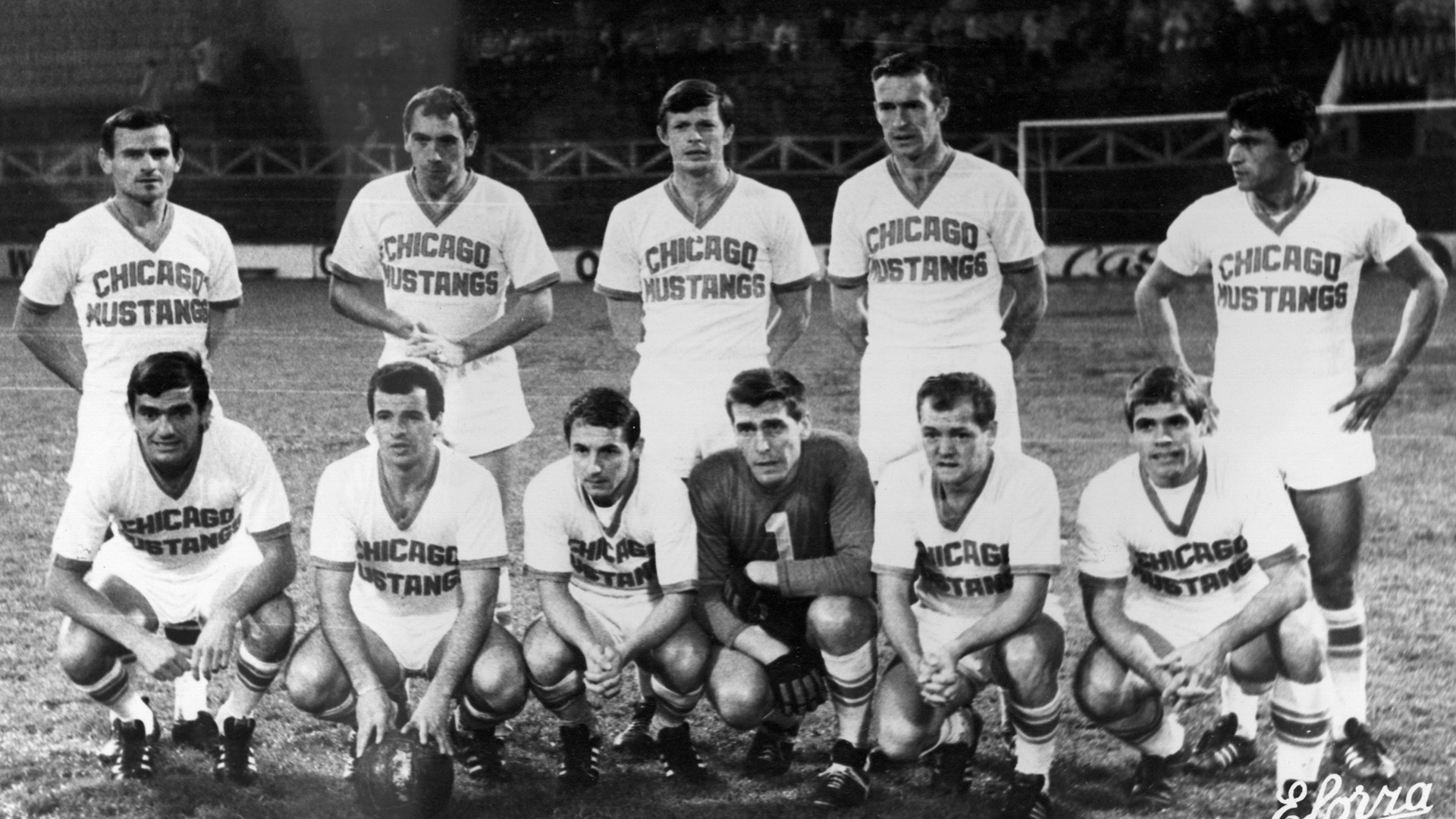 In more than 120 years of history, our club has played against dozens of opponents from remote countries, some with little or no football tradition, and others from major football tradition such as Brazil and Argentina. Clubs that, because of either their remoteness or their lack of pedigree are, as almost everything exotic, mysterious and interesting.
Chicago Mustangs (San Mamés, 1968)
The mustang is a wild horse of North America that, in addition to being named as the well-known car, the club gave its name to one of the most curious teams that Athletic has ever faced, the Yankees of the Chicago Mustangs. The result was 8-0, even though the Red-White presented a team of reserves and youngsters that was not very official, but which included illustrious lions such as Orue, Igartua, Lavin and a very young Javier Clemente. It was the biggest defeat the Americans had suffered on their entire tour.
Orue and the captain of Chicago Mustangs (AC Museoa)
Portuguese Sports Association (Estadi de Sarrià, Barcelona, 1963)
The summer bowling competition has led to Athletic's clashes with a number of South American teams, mainly Argentina, Uruguay and Brazil. Portuguesa, a club that currently plays in the fourth division of Rio, but which in the 1950s was one of the best teams in Brazil, was one of them. The surprising thing about this team against which we drew two in 1963 is that our match was part of a European tour in which we played seventeen clubs from eight different countries: Greece, Bulgaria, Germany, Switzerland, Italy, Spain, France and Portugal. Among them was Inter, who would win the European Championship that season and whom the Portuguese beat in the friendly. In the whole tour, they only lost one match, precisely against a Portuguese rival, FC Porto.
Portuguesa team in 1963
Al-Hilal Saudi Football Club (Sportzentrum, Austria, 2014)
Fate liked it this way, and this club from Riyadh, Saudi Arabia, considered one of the best in Asia, replaced Dynamo Kiev as our first pre-season opponents in Austria in the 14/15 season. Athletic Club won 0-3 with two goals from Aduriz and another from Beñat against a team that will remain in the memory as one of the most exotic teams we have ever faced, and in whose ranks a world champion, Roberto Rivelino, played between 1978 and 1981. Founded in 1957, it has won 59 national and international titles in its history, including three Asian Champions, the last one in 2019.
CA Talleres de Córdoba (La Rosaleda, 1978)
The names of Argentinean clubs, in both English and Spanish, are of a truly striking variety. Sometimes the club's city takes a back seat and the names refer to different origins. In the case of the Cordoba team, its name refers to the railway workshops where the English men who founded it used to work. After being crowned world champions, many Argentinian clubs played in summer tournaments in Europe, and Athletic played at Costa del Sol, first against Talleres, and then against Huracán, coming out on top. Maradona made his debut at the age of 15 as a player for Argentinos Juniors in the First Division against Talleres de Córdoba, being defeated 1-0.

Poster of the championship Costa del Sol in 1978

ASEC Mimosas (2000, Stade de France)
Athletic Club had the honour of taking part in the centenary celebrations of Red Star FC in Paris with a triangular match against ASEC Mimosas from Ivory Coast. This club from Abidjan is the most prestigious one at Ivory Coast, with 23 League titles and the CAF Champions League in 1998. Some of the best African footballers in recent years have come out of their academy, including Bonaventure Kalou, Didier Zokora, Emmanuel Eboué, Gervinho, Salomon Kalou, Romaric, Didier Ya Konan, Touré Yaya, Arthur Boka or Aruna Dindane.
+