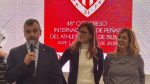 Forecasts reflected that around 500 participants would come to Aspe during this long weekend to take part and enjoy the International Congress of Athletic Club's supporters. Concurring with a non-working Friday and a match against Real Madrid to be held in San Mamés, and who knows, maybe the great taste of a win at La Cartuja.
The host organization, Peña El Txopo de Aspe, had the best ingredients for a great red-and-white party ready. The pandemic, the confinement and its subsequent consequences forced them to postpone until next year.
The possibility of bringing together 500 participants explains the exponential growth that the annual red-and-white festival has lived in recent editions. Since they received the makila in the last congress of Bayonne, Peña Alicantina ordered a greater organization. Athletic Club with its president, Aitor Elizegi, at the head, and the Board of Directors, has collaborated from the beginning with the above-mentioned Fan Club, headed by Pepe Sigüenza, in various meetings. They also collaborated with the town council, both in San Mamés and in Alicante, taking advantage of the visits of the cup matches against Intercity and Elche.
Now, we will have to wait until next year, when time and normality will allow us to reconfirm the dates for May 1st and make the most of the International Congress of Athletic Club Supporters in Aspe.
+