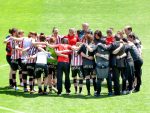 On 5 May 2013, less than a month before the demolition work began at San Mamés, Athletic Club were close to securing their fifth league title. Under the management of Juan Luis Fuentes, the lionesses were playing their thirty first league match, having only lost a single game in the domestic competition until then, in what had been a spectacular year. However, FC Barcelona, holders of the championship title, arrived at La Catedral with the intention of securing the trophy once more and left the Red and Whites on the very threshold of the title for the second campaign in a row.
It was Mother's Day, a sunny morning on the first Sunday of May. The atmosphere was incredible at San Mamés, with 26,000 supporters ready to celebrate another Superliga, as they had done in 2002-2003, 2003-2004 and 2006-2007. The Red and Whites only needed a draw to be crowned champions again. The game had not started well, since Melanie, a historic Barcelona footballer, opened the scoring on 3 minutes with a free-kick, what hit the local team like a bucket of cold water in the face. There was a lot of tension and a lot of pressure. FC Barcelona, managed by Xavi Llorens, were about to score the 0-2, but Sonia's shot hit the post. Before going into the break, red-and-white player Eli Ibarra scored a psychological goal that equalised the game. That draw was enough to secure the title.
In the second half, Athletic kept pushing up and putting pressure on their opponents' defence. Erika and Eli were close to scoring their second goal but the visitor's goalkeeper cleared their shots. Unfortunately, Kenti, who had just been brought into the pitch, dealt the lionesses a blow by scoring the 1-2 on 74 minutes. Nekane hit the ball against the bar once, but the scoring remained the same until the end, allowing FC Barcelona to clinch their second consecutive Superliga.
Gurutze and Tzibi's bittersweet farewell
The lionesses' tears showed a total contrast with the joy experienced by Alexia, Sonia, Corredera, or Vicky. Some historic footballers like Tzibi Juaristi and Gurutze -who has just turned 41 today- had played their last fixture as lionesses. Both of them were given some minutes in the second half. The player from Urretxu appeared in a total of 240 games and scored 89 goals in the 11 seasons that she wore the red-and-white shirt. Coming from Oiartzun in 03-04, Gurutze was one of the top goal scorers during the first decade of the women's team. Having won three leagues and being runner-up twice, the forward had to make do with a bittersweet farewell on the pitch at La Catedral. The player from Gipuzkoa ranks ninth in the list of the largest number of official fixtures played and Tzibi is placed in eighth position, ending her footballing career with 262 appearances.