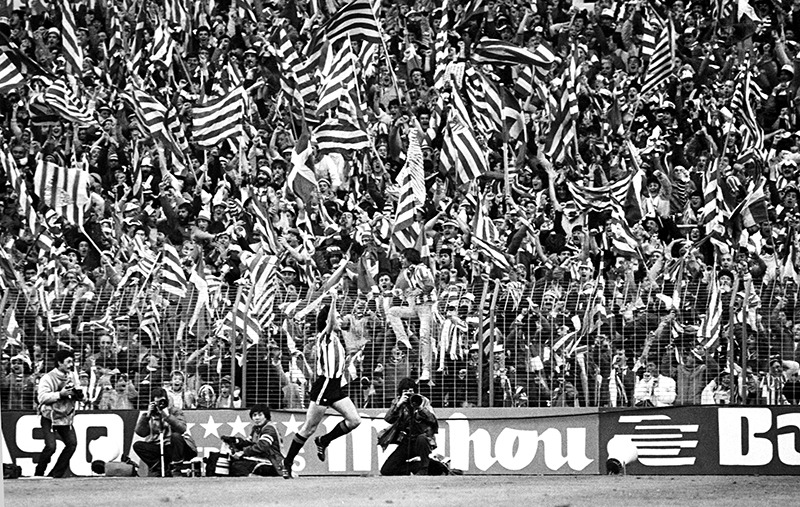 It's been now 36 years since Athletic Club defeated FC Barcelona by 1-0 in the 1984 final Cup, a match held at the Santiago Bernabéu. It was the 24th Cup title achieved by the lions, which became a doublet since the lions had just won La Liga championship a week earlier, led by Javier Clemente. As times goes by, the merit of that victory, three decades and a half later, stands out and is enhanced as one of the greatest achievements of the lions, perhaps equal to the legendary final of the eleven villagers. In 1958, the red-and-white did beat Di Stefano's Real Madrid in Chamartin, while in 1984 they won against two other Argentinians, it was against Cesar Luis Menotti and his star, Diego Armando Maradona. The German, Bernd Schuster took part as well.
Javier Clemente was 31 years old when he was promoted from Bilbao Athletic and took the charge of the first team in 1981. 'We're going to try and win it all', he pointed out at the time, and no-one could have imagined that just three years later Athletic would win its second League championship triumph and 1984 Cup, completing their most successful season in the last 64 years, since they scored their previous double in 1956.
The early 13-minute and magnificent goal scored by Endika, captain of the team on behalf of Sarabia, was enough to ensure a victory that would have not been possible without the stifling pressure and teamwork, preventing FC Barcelona from weaving their game. Argote's right-footed pass out of a corner, Endika's chest-hung shot down the line, his left-footed shot against the post, his arm raised celebration of the goal and, as a backdrop, the sea of red-and-white flags at the stands (with over 60. 000 'athleticzales' supporters in Madrid), are part of the collective imagination of Athletic Club, its days of glory, a historical and unforgettable run. We are now celebrating the 36th anniversary.