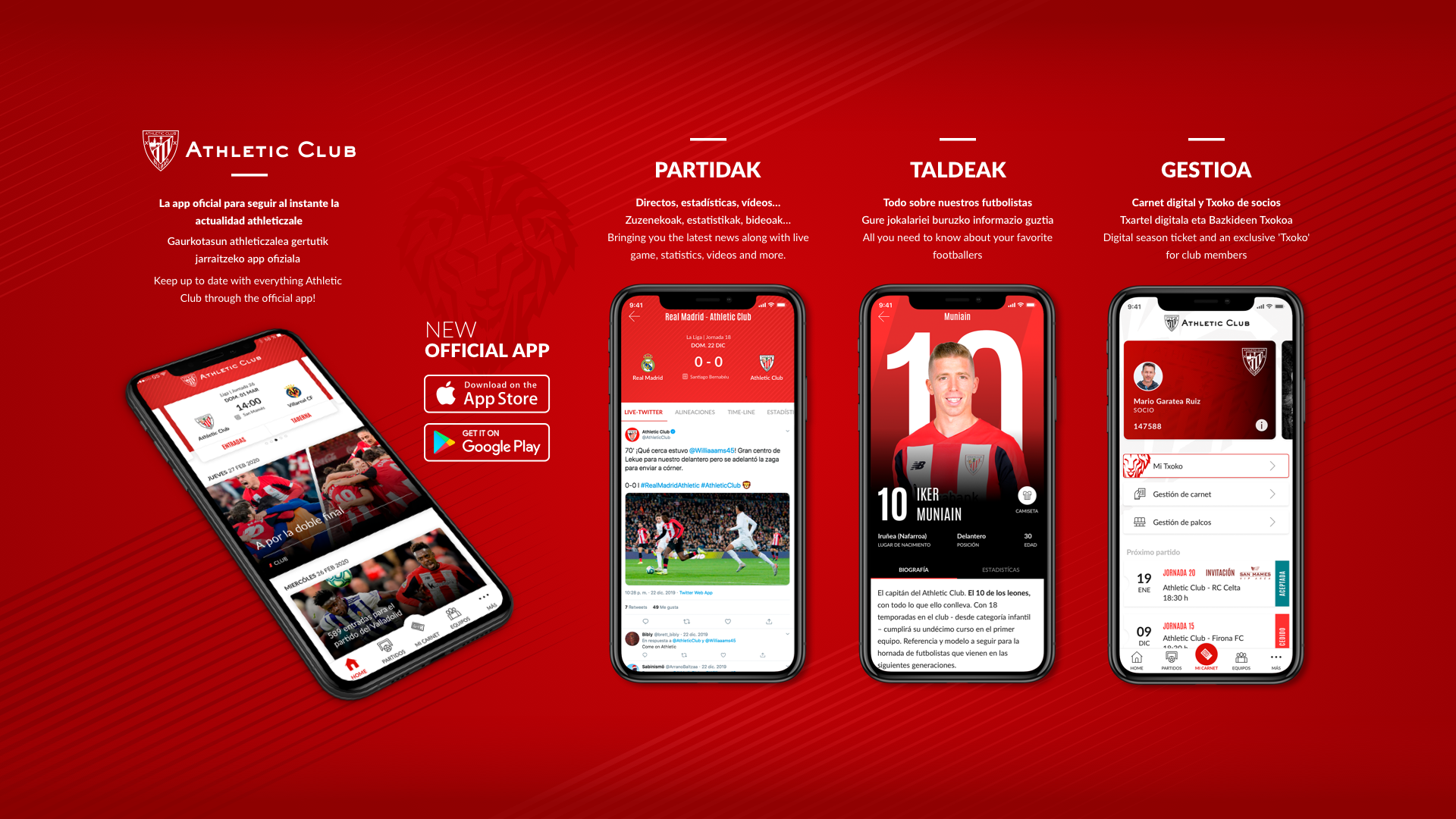 Athletic Club has launched today its new official Athletic Club app, optimized for mobile devices on iOS and Android, in which all its supporters will be able to find the most updated information about their team
The app -available in Basque, Spanish and English- incorporates the old Athleticket app among its multiple features, so that all the members of the Club can continue to carry out the digital transfer of their card from the section My Card. In addition, from this very section, members will also have the opportunity to access and manage the same options and procedures they do normally carry out through the Txoko section of the website.
The new app will allow you to follow live all the matches of the first male and female teams, with live statistics and all the details (galleries, video-summary, press conferences, results and classifications of the day…) as well as receive optional instantaneous notifications regarding the latest news on the match(line-ups, goals and start, break and end of the match).
In addition, users will enjoy instant access to the latest news in the News section, and a Multimedia section, a gallery with the latest images and video. Moreover, they can check on the same Social Wall the posts on the different official profiles of Athletic Club and the Athleticzale World list, with the accounts of the players from different top red-and-white teams with presence on Twitter.
The app also holds sections with all the history and data of the Club and San Mamés; the templates, results and classifications of all the teams in Lezama, an Agenda where the matches to be played by all the Club's teams are shown or direct access to the Online Shop, tickets purchase to visit AC Museoa and the Stadium Tour as well as access to the website of Athletic Club Fundazioa.
All the users of the previous Athletic Club app (discontinued several months ago) will be able to update their version in order to receive and enjoy the new app. On the other hand, Athleticket users will receive a notice as an invitation to download the new app.
In the next few weeks, the app will be updated with renewed sections and exclusive contents for all the athleticzales as part of the ongoing development of the new app.
Download it now or update your old version!
Download it at Google Play Store (Android)
+