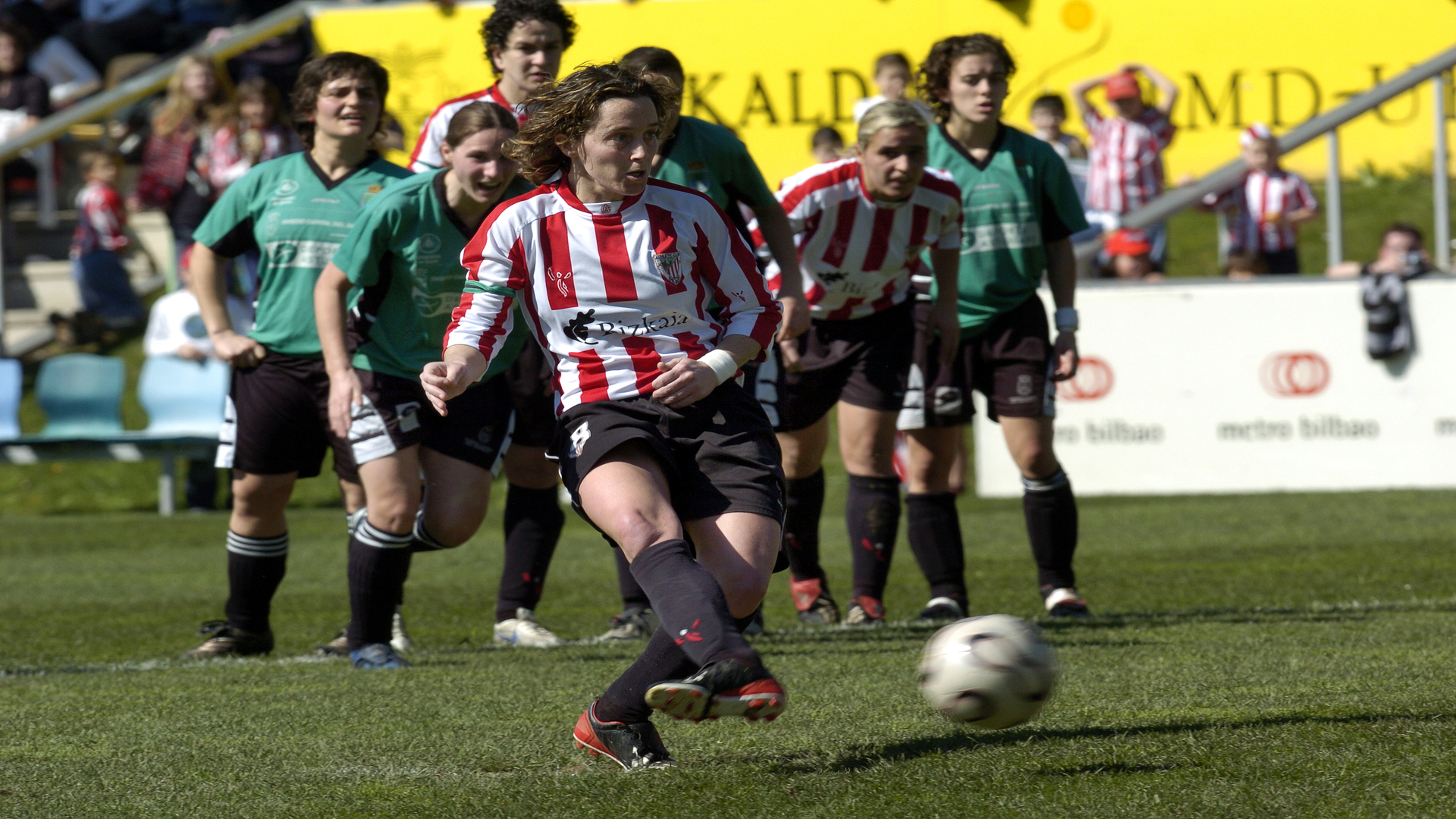 Aitziber "Tzibi" Juaristi Caballero has turned 44 today. The defender from Getxo is currently Athletic Women's C Team coach, a side that has managed to be promoted to the Liga Vasca for the next campaign. Tzibi retired 7 years ago, just before turning 37. She was one of Athletic Club leading players since the day she made her entrance at Lezama, being part of the first litter of lionesses in 2002. She began her footballing career at Bizkerre, her hometown team, and from there, Juaristi started taking steps forward playing for the most prominent Biscayan women's teams: first Sondika, then Leioa. At the age of 26 se made her official debut as a red-and-white player at Lezama in a match against Torrejón.
The centre-back is one of the greatest red-and-white icons. During the 11 seasons that she played as a defender for Athletic, she made 262 appearances and scored 49 goals (an experienced penalty taker). She is ranking eighth on the all-time list of the most league titles clinched by a club's footballer, with four trophies: three of them won consecutively (2002-2005) and the other one in the season 2006-2007. In February 2012, her knee was injured while warming-up ahead of their fixture against Atlético at Cerro del Espino. And a year later, she hung up her boots to start her career as a manager. This year, she has been in charge of the Women's C Team, who have been promoted without suffering a single defeat. Last year, Tzibi was Athletic Ladies Youths' manager. Coaching runs in her blood as talking about a Juaristi is talking about a family saga. Her brother, Iñigo Juaristi, was one of the architects of the red-and-white women's first steps in the elite of football. With him, she clinched four league titles, for Iñigo and his sister Aitziber shared plenty of time on the pitch as well.
Always displaying a strong character on the field, Tzibi was a charismatic defender. She wore No. 8 on the back of her shirt and the captain's armband -sometimes her headband. After being a committed footballer and a team leader, she is now passing down her skills to the new lionesses at Lezama. Her pupils had just been born when she was already celebrating titles and lifting trophies at San Mamés.