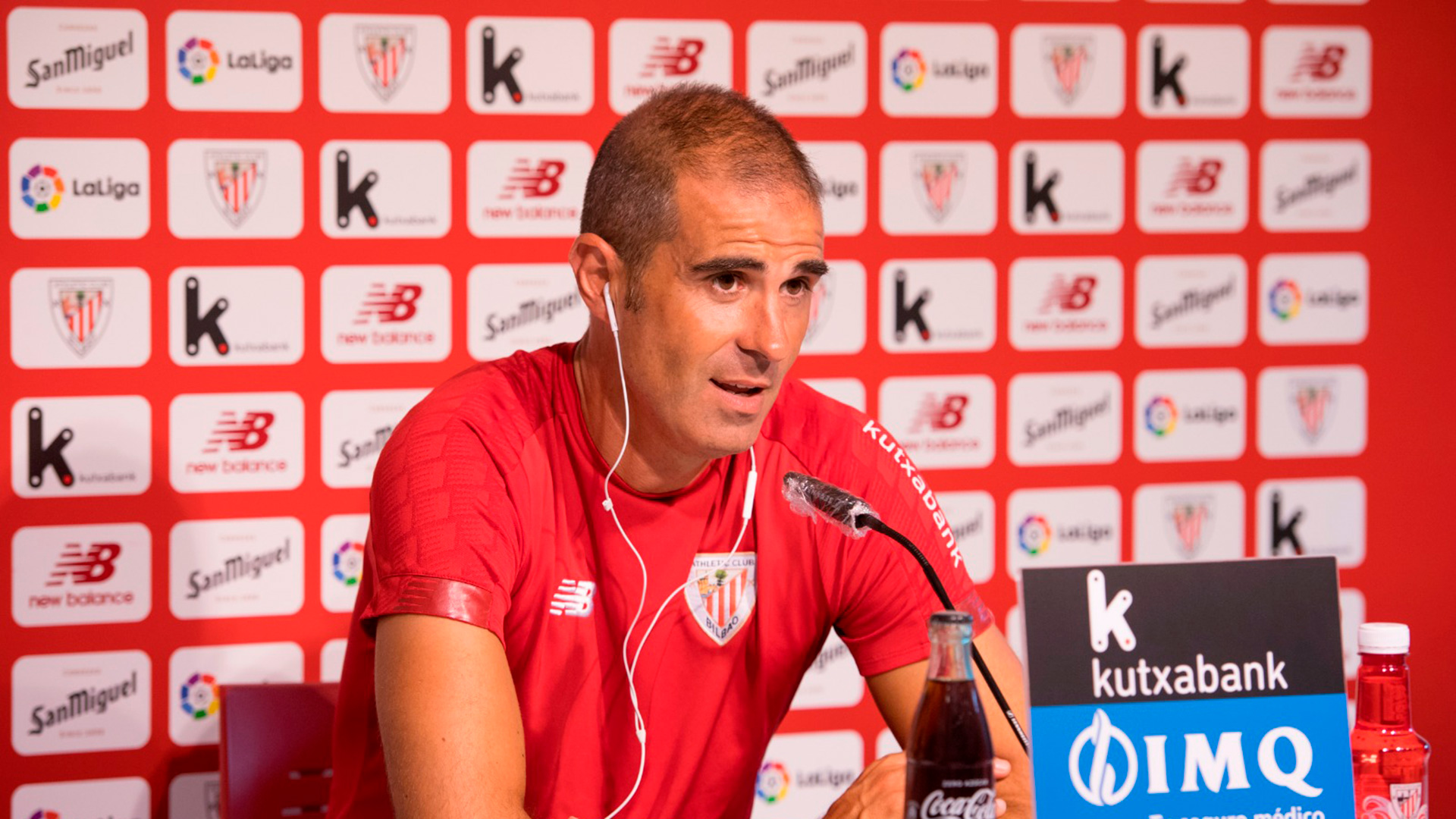 Athletic Club's coach, Gaizka Garitano, appeared before the media at midday today in the pressroom at the Lezama. Days after renewing his contract for one more season, he has ensured that 'the club has told me things very clearly, communication has been very fluid and there has been any kind of problem'.
In a long press conference in which different subjects have been approached, the most frequent one has been the return of LaLiga. 'We can't really make an initial assessment of what awaits us, it's something new for everyone, but the one who adapts best will be the one who takes advantage. We're going to miss our supporters, it's pushing us a lot, but we'll have to get used to it, we'll have to play like this'.
Garitano also referred to the difficulty of not being able to play friendly matches before starting the competition officially: 'You can have good feelings while training, but we are not equal to 90 minute-match, and that is something very difficult to simulate in a training session. We also haven't had much time to work together or do 11-on-11 exercises. However, what worries him most is 'to be playing every three days'. 'We tend to get conditioned a lot. We're a team that puts a lot of pressure and wear and tear on ourselves. There are others who are less physical and who will be less concerned about that. We must have all the players focused and ready because we will need them at any moment'.
As for the first rival to be faced at La Liga, he described Atletico de Madrid as follows 'a strong squad struggling to enter the Champions League, a team that comes from winning two matches against Liverpool, which no team in the world would be able to do so. But we already beat them last season'.
Regarding the future, Garitano has pointed out on the unavoidable generation change that is coming: 'The youngsters will not only have to reach the sporting level of the players who are currently over 30 and are references within the team, but they will also have to be concerned about the human side, as these veteran players are incredible on a human level. The youngsters have to know that they're part of a different club and therefore, the way they behave has to be different too'.
Of course, the name of Aritz Aduriz did also come up, during the brief: 'I had to hug him and 'fight' with him. It has been a very intense and magnificent relationship. It is a very important loss, he's been carrying the weight of the striker in the last few years'.
+