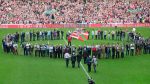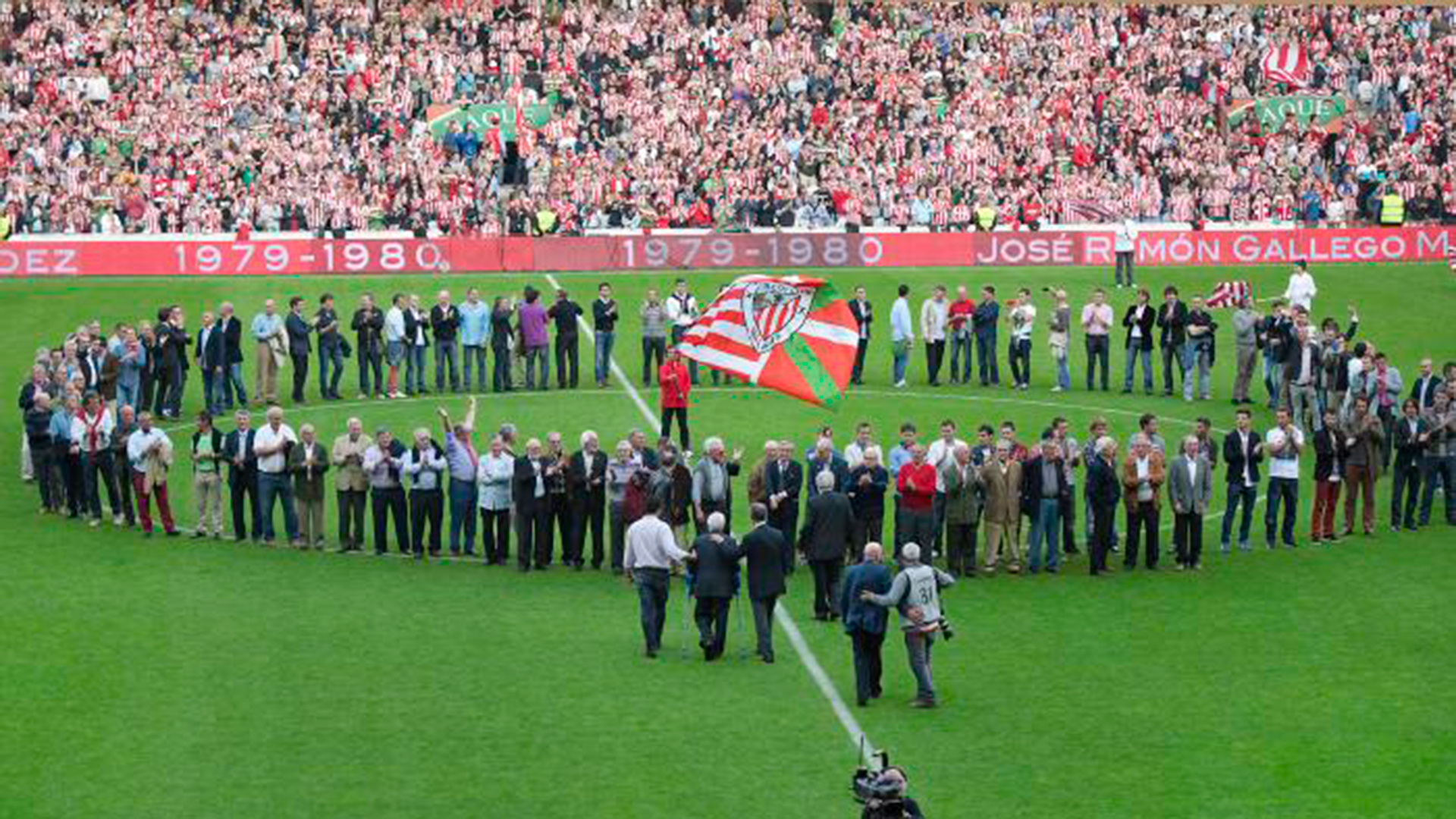 June 5, in 2013, was a memorable date for all the red-and-white supporters, the day in which the last match was held at the old San Mames. Although the last official match was played on May26 (Athletic-Levante), the friendly match played that day at 20:45 between Athletic and a selection of players from Bizkaia, was the farewell that The Cathedral deserved.
On that Wednesday, 40,000 supporters paid tribute in San Mames to 129 ex-players, 9 ex-coaches and many years of red-and-white history. The supporters enjoyed seeing some of the legends of Athletic stepping onto the pitch once again and were thrilled to see many of them playing. That day, great myths and legends of the club such as José Mari Maguregui, Rafa Iriondo, José Ángel Iribar, Daniel Ruiz Bazán, Julen Guerrero, Genar Andrinua and Orbaiz stepped on the green of The Cathedral for the last time.
On the bench, Marcelo Bielsa and Txetxu Rojo, together with Iñaki Sáez, coaching Athletic and the team from Bizkaia respectively, in a match in which the result was the least important thing, a match that ended up with a goal scored by Alain Arroyo, a player from CD Mirandés at that time. Arroyo's goal will always be remembered as the last goal scored at The Cathedral.
Line-ups:

Athletic Club: 1. Iraizoz, 3. Aurtenetxe, 6. San José, 8. Iturraspe, 10. De Marcos, 11. Ibai, 14. Susaeta, 15. Iraola, 16. Isma López, 18. Gurpegi, 21. Ander Herrera.
Bench players: 13. Raúl, 23. Ekiza, 22. Castillo, 27. Ruiz de Galarreta, 2. Toquero, 20. Aduriz, 28. Ramalho, 16. Orbaiz, 8. Guerrero, 5. Andrinua, 7. Dani, 1. Iribar.
Bizkaia: 1. Goitia, 2. Expósito, 3. Koikili, 4. Etxeita, 6. Goikoetxea, 9. Azkorra, 10. Beñat, 14. Mikel Rico, 15. López Garai, 16. Ander Lafuente, 19. Antxon Muneta.
Bench players: 13. Iago Herrerín, 5. Tarantino, 8. Alain Arroyo, 18. Arriaga, 7. Urko Vera, 11. Vilarchao,12. Unai Medina, 17. Carlos Merino.
Pictures: Athletic Club Museoa
+
Galleries
Other galleries
Videos
Audios
Attached
Technical sheets
Links