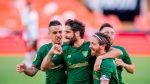 Raúl García was the main protagonist of the 2-1 victory of Athletic Club at Mestalla with two goals that led him to surpass (13) his best scoring figure as a lion. The player from Navarra has preferred to emphasize the overall performance of the team above his particular one, despite the great goal scored by him, from outside the area: "When I see the opportunity, I always give it a try. Today I got a clean hit and it went in. The important thing is that it helped the team to win and that's why I'm happy".
The '22' of the lions has highlighted the importance of the victory against a direct rival: "We knew that it was a key game to take a step forward and we have gone for it from the beginning. This team is hungry. We knew that after the break, it was going to be a hard but very fast competition and that it was going to be very important to focus from the very beginning og from the beginning of the games.  That is giving us peace of mind and confidence for days like today".
Two matches are to be played soon at San Mamés against Real Madrid and Sevilla FC: "We know that at home we are a hard team, strong and difficult to beat. Our goal has to perfect, because if we are well, for sure everything will come more to face".
+