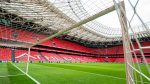 Thirteen years ago today, Gorka Iraizoz made his debut as an Athletic Club keeper. He would go on to play in 392 official matches, becoming the shot-stopper with the third highest amount of appearance for the lions. Iraizoz played his first game as a lion against CA Osasuna in LaLiga on August 26, 2007.
To commemorate the date, we are taking a look back at the ten goalkeepers who have pulled on the famous black jersey most often in Athletic Club's history.
José Ángel Iribar
The legendary goalkeeper defended our colours 614 times across 18 seasons and he is still Athletic Club's record appearance maker. Winner of two Copas in 1969 and 1973, as well as the Zamora Trophy in 1970, El Txopo is one of the greatest figures in Athletic's history.
Carmelo Cedrún
Cedrún played in 402 matches over 14 seasons, becoming one of only 18 players throughout our entire history to go over the 400 mark. He managed to win the LaLiga title in 1955-56 and three Copa titles (1954-55, 1955-56 and 1957-58) whilst at San Mamés.
Gorka Iraizoz
392 appearances in 10 seasons. The man from Navarre was the last goalkeeper to win a title with Athletic Club, he was between the sticks during the Athletic's 2015 Super Cup victory over Barcelona. He's also the keeper with the second highest amount of appearances in Europe with 45.

Raimundo Pérez Lezama
Lezama was an icon for Athletic in the post Civil War years. With 263 fixtures over 16 seasons, he was a revolutionary keeper. Like a modern day sweeper-keeper he would leave his area and liked to play with the ball at his feet. Lezama won two LaLiga titles (1943, 1956), six Copas (1943,1944, 1950,1954, 1955 and 1956) and the Zamora Trophy in 1947, an award Marca gave him posthumously. Curiously, he was also the first keeper to wear a turtle-neck woollen jersey.

Andoni Zubizarreta
Andoni was Athletic's last line of defence during the last two LaLiga titles in 1983 and 1984. The Vitoria-born keeper made his debut at just 20 years old under Javier Clemente, before going on to make 239 appearances in five seasons at Athletic. In 1984, he won the double as Athletic defeated FC Barcelona in the Copa del Rey final. He stood out for his positioning and ability to take crosses, Andoni is the keeper with the biggest percentages of clean sheets compared to games played (39.1%).

Gregorio Blasco
After making his debut in 1927-28,  in 1929 against Real Sociedad he became the first goalkeeper to play in a LaLiga fixture in Athletic Club's history. Gregorio's trophy cabinet is enviable: four LaLiga titles (1930, 1931, 1933 and 1935), Four consecutives Copas (1930, 1931, 1932 and 1933) and eight Regional Championships.

Juan José Valencia
Academy graduate Valencia made his debut at barely 19 years old. A brave keeper who excelled in one-v-ones, he played for Athletic Club 195 times across seven seasons.

Dani Aranzubia
After cutting his teeth in Athletic Club's youth teams, Aranzubia was called up to the first-team in 2000-01. He was given his debut by Txetxu Rojo and became Athletic's undisputed no.1 in 2002-03 under German coach Jupp Heynckes. Dani made a total of 189 appearances during his eight seasons with Athletic.

Bixente Biurrun
In 1985, Bixente Biurrin arrived at Athletic Club via CA Osasuna. He shone as a keeper thanks to his reflexes and his bravery. He ended up becoming undroppable during his time with Athletic Club (1986/87-1989/90).

Iñaki Lafuente
Iñaki Lafuente flickered between being Athletic's undisputed no.1 and being put on the substitutes bench during his nine seasons at Athletic Club. Currently, Iñaki is a youth team goalkeeping coach at Lezama. He guarded our goalposts 151 times in his career.

+