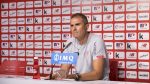 Athletic Club head coach Gaizka Garitano admitted that he would not be afraid to line up with youngsters from the academy if it were necessary.
The coach from Derio gave his first press conference of the pre-season and answered a range of questions from the media about the squad, pre-season preparations, transfers and injuries.
"They're very excited and hopeful," Garitano said when asked about the Bilbao Athletic players taking part in pre-season. "If you look at the general look of the squad, it's very young.
"We're a club that lives for its young players and its academy.
"Training is going well. We just need the first few games to know the youth players better. Together we have to build a competitive group."
The head coach spoke of the "beautiful goals" Athletic have this season. It is a season in which Athletic will play in the final of the Copa del Rey and fight for the Super Cup, Garitano will have to count on many players.
"We're playing for great things," the boss said. "We need people in every position. We need a balanced squad."
When it comes to the youngsters in the squad, Garitano knows them well having trained the majority of them before and has said their futures will depend on what the squad needs, with there being three options.
"Some will go on loan," he said. "And depending on reinforcements, others will stay in Bilbao Athletic and some with the first team.
"I know them all well and with the exception of Nico [Serrano] I've trained all of them.
He added: "We are brave enough to play with youngsters, if we have to call upon a kid, we'll do it."
Our boss has admitted to being open to the possibility of bringing in new blood but at the same time accepts that with Athletic's transfer policy and the current market it might not be possible.
"Every coach always wants to improve his squad," Garitano said. "But the market isn't easy, especially for us. We know the market for Athletic is reduced.
"The club is working hard. We'll see if someone comes in. If we bring someone in, fantastic. But if not, we'll compete as we are."
As for the six positive coronavirus cases, Garitano is optimistic that they will be able to return to training as soon as possible.
"We've got six players at home and that's affecting us. We hope they'll be back with us soon," he added. "It's not easy to work whilst missing 11 players.
"They'll have to do some basic training when they come back. But all those at home are still training and they're in constant communications with our fitness coaches.
"They'll go through a natural process upon returning. We want them to recover and be back on the pitch as soon as possible. It's important to have your best players available."
Garitano is also hopeful about the return of injured players, adding: "They're doing well. Playing every three days was difficult for them.
"Not including Ibai [Gómez], we hope that they'll be back with us at least by time LaLiga starts."
+