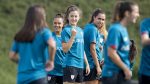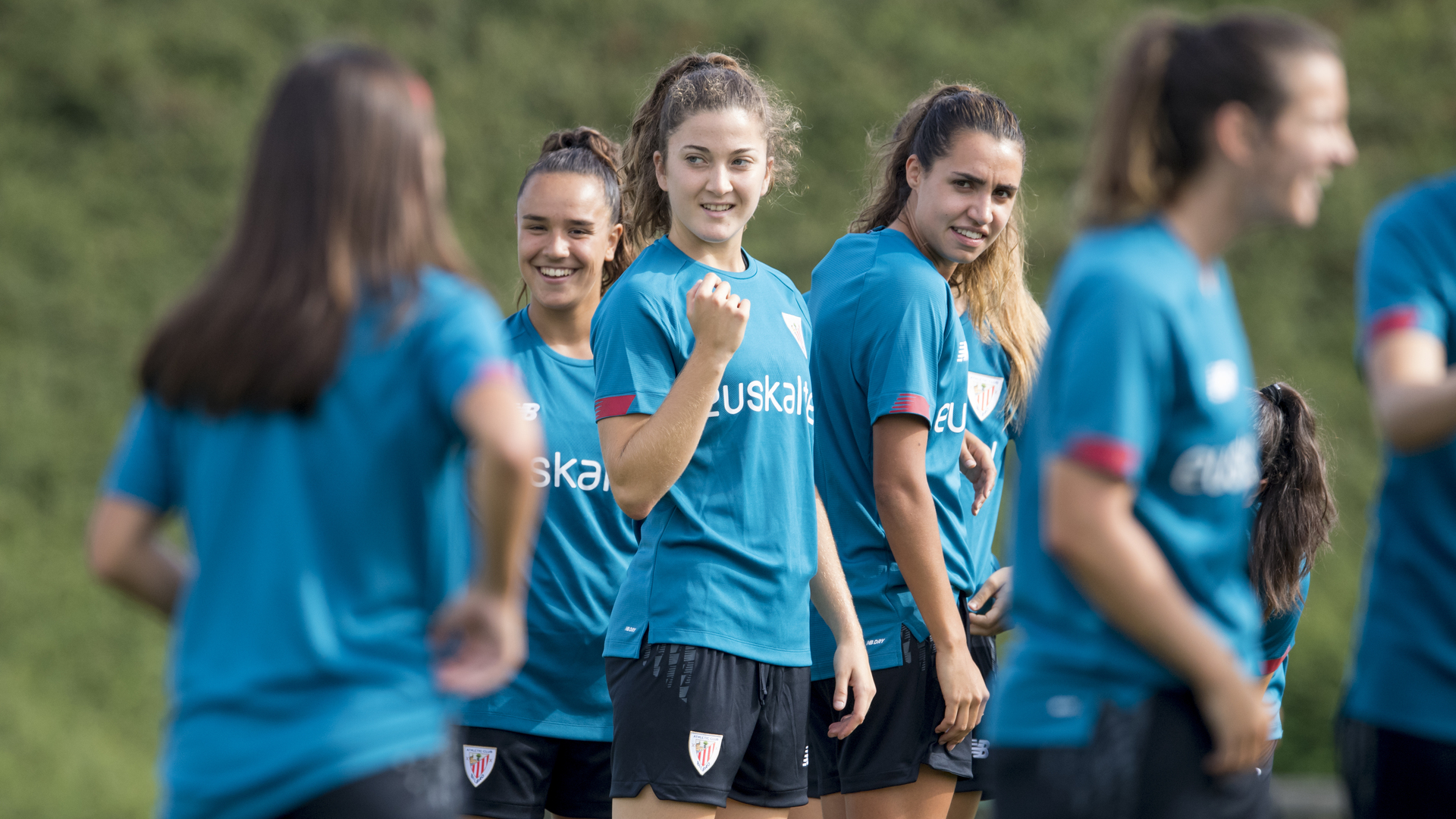 Since Athletic Club Women's first team began pre-season on July 20, head coach Ángel Villacampa has called up nine footballers from the youth setup.
Initially, the manager promoted Naroa Uriarte, Nerea Nevado, Mariana Cerro and Bibiane Schulze, and not long afterwards, Leyre Monente, Paula Arana, Clara Pinedo, Alejandra Estefanía and Ane Elexpuru were also brought into the first-team fold.
All of those called up have been making waves in the Lezama youth system for a while now, and the majority of them have also turned out for the Spanish national side's various age-groups.
The already initiated
Three of the players previously made their first-team debuts:
Leyre Monente: Born in 2000, the striker from Logroño made her debut under Joseba Aguirre in November 2016. What's more, Monente became one of the youngest players to play for the first team in the last few years. Leyre played a role in three first division fixtures during the 2016-17 season, despite being just 16 years old.
However, in October 2017, a serious knee injury halted her progress. After her spell on the sidelines, Monente reappeared in October 2018, going on to score seven times in 13 league games for the B team.
Her performances led to her taking part in pre-season with the first team, but Monente was seriously injured again, this time in a friendly against Medina de Pomar. A dislocated shoulder forced her to undergo surgery yet again, meaning she was barely able to play throughout the 2019-20 campaign.
Having overcome her injury issues, Monente is looking to add to a first-team forward line that already boasts several talented footballers such as: Erika Vázquez. Lucía García, Nekane Diez, Yulema Corres and Ane Azkona.
Nerea Nevado: From Santurtzi and born in 2001, Nerea, known as 'Lilo' by her teammates, has already had her first taste of Primera Iberdrola action. In September 2018, still just 17 years old, Nevado made her debut against Atlético Madrid, coming on as a substitute for the injured Maite Oroz. In December 2018, she was an ever-present in the Spain team that won the Under-17 World Cup.
In the final stretch of the 2018-19 season, Nevado became more involved with the first team and even managed to score a goal. After several pre-seasons with the senior side, Nerea wants to establish herself as a Primera Iberdrola player. The left-footer also scored one of the goals against Alavés in Athletic's most recent friendly match.
Naroa Uriarte: The centre-back from Bakio was the latest Lezama graduate to make her debut for the first team. Naroa managed to play a few minutes in the February 2020 fixture against Real Betis in Sevilla. Villacampa called Uriarte up to the squad when the lionesses were at peak form.
At the same time, Naroa was a mainstay in the reserve side, as they won the Reto Iberdrola under coach Iraia Iturregi. The 19-year old strikes the ball well and has great distribution, the coaching are urging her to be more forceful and aggressive, attributes which all the best defenders pick up with time.
The hopefuls
The rest of the reserve teams players have not debuted yet, but it is likely they will in the 2020-21 campaign. The lionesses are going to have a tight schedule in the fast-approaching season. Added to that, new regulations caused by covid-19 mean that clubs can make five substitutions per game.
Paula Arana: The striker, born in 2001, is having an excellent pre-season with the first team. Paula is tall, but she is also mobile and has a good eye for goal. She was brought in from Aurrera de Vitoria and has scored eight goals in each of her two seasons in Lezama.
Mariana Cerro: The central midfielder is taking part in her third pre-season with the first team. Mariana's strength in the middle of the pitch is one of her biggest assets. She arrived via Osasuna in 2018-19, and in her first season with the B team she scored 13 goals in 31 matches. Last season, she was one of the first names on the team sheet for Iturregi.
Ane Elexpuru: After spending some time with Bizkerre, Ane came to Lezama in 2018-19 at just 15 years old. Now, at 17, she has already turned out for the first team in a friendly. Ane is a versatile footballer with a lot of potential. She is also one of the main figures in Spain's under-17 squad, along with Estefa, Amaia Martínez, Clara Pinedo and Maite Zubieta.
Bibiane Schulze: Arriving from Frankfurt last summer, coach Iturregi has used Bibiane as a right-back and centre-back. She already has some experience and is the oldest of the group looking to make their debut. Schulze is learning from the likes of first-team defenders Gimbert and Eunate and she will be hoping to convince Villacampa to give her a shot in the elite this season.
Alejandra Estefanía: The youngest member of the group, 'Estefa' has just turned 17. Logroño native Alejandra is becoming more influential as a creative midfield force. Despite her young age, Estefa plays with a lot of personality and has shown her quality throughout this long pre-season.
Clara Pinedo: Another key figure in midfield for the reserves. Clara recently turned 17 and the Bilbao-raised footballer has shown great discipline and work-ethic. She has a lot of potential and will definitely be an important presence throughout the B-team's Reto Iberdrola campaign. And of course, she will be ready if called upon by the first team.