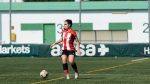 Athletic Club Women footballer Naroa Uriarte is now a fully fledged lioness. The defender, 19, took part in pre-season with the first team under head coach Ángel Villacampa and did enough to convince the manager she can take the next step. In addition, the centre-back's contract has been extended until June 2023.
Naroa made her Primera Iberdrola debut this February in an away fixture against Real Betis. Villacampa had already called up Naroa to participate with the first-team pre-season in 2019-20. After that, the defender became a key figure in the reserves, playing 21 matches and scoring three times.
Following in the footsteps of teammates Ane Azkona, Oihane Valdezate and Oihane Hernández who moved up last season, Naroa is now part of the first team and will wear the no.5, recently freed up after the retirement of its last incumbent, Ainhoa Álvarez.
Uriarte arrived in Lezama in 2016-17 via local side Bizkerre. She progressed well throughout her four years in the academy and played for the Spanish national team at youth level. What is more, alongside fellow Lezama graduates Paula Arana and Nerea Nevado -both also pushing for first-team places- Uriarte managed to win the Under-17 World Championships in Uruguay in 2018.
Naroa is a centre-back with a lot of talent and potential. She reads the game well, is strong in the challenge and distributes well. At only 19 years of age, she is an extremely promising player for the future.