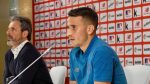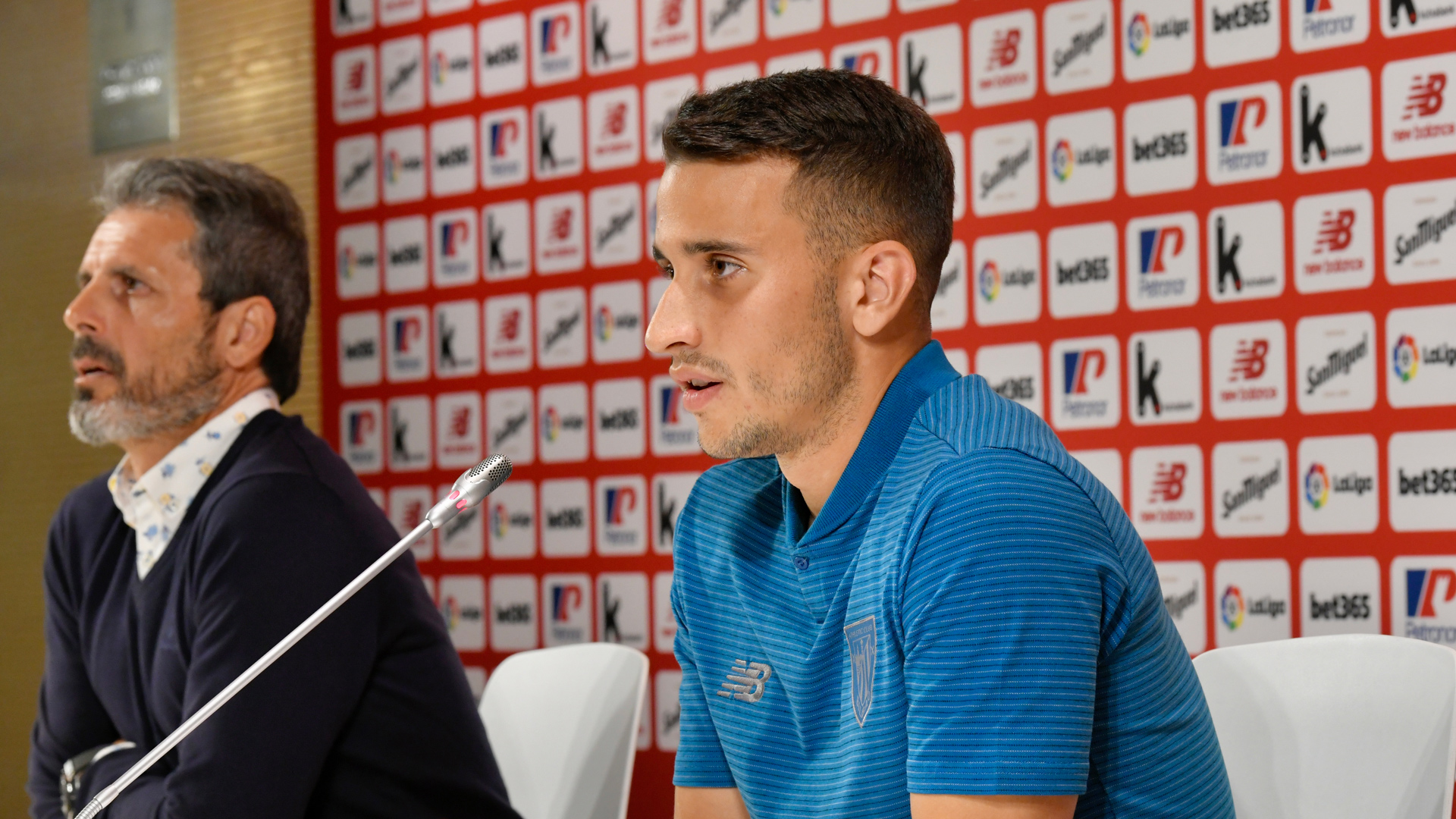 Álex Berenguer was officially presented as an Athletic Club footballer on Tuesday evening.
Athletic's most recent addition made his club debut against Alavés at Mendizorroza on Sunday. Director of football, Rafa Alkorta, joined the winger as he was unveiled to the media in San Mamés' press room. After the press conference, the media took photos as Álex stepped out onto The Cathedral in the red-and-white shirt for the first time.
The winger, signed from Serie A side Torino FC, insisted he did not think twice when the opportunity to become an Athletic Club player presented itself.
"It wasn't very difficult to convince me," Berenguer said. "I had no doubts about coming to Athletic. The situation is complicated but I can see my teammates train like animals and we'll get through this.
"I'm very happy to be here and I'm proud of the effort the club made – the president, the board, etc. And now I want to show my gratitude on the pitch."
He added:  "It's a place to be able to defend these colours.
"I've only been here for four days. But from the moment I arrived, I've found myself in a team that's like a family and they've taken me in like one more."
Berenguer played in over 80 Serie A matches over three seasons for Torino FC, gaining invaluable experience. Furthermore he is also an extremely versatile player, capable of playing in almost any position.
"I've always felt most comfortable on the left wing," he added. "But I can also play on the right and behind the striker. I can even play as a wing-back or full-back.
"Italy made me a more complete player than what I was at Osasuna. Italian football toughened me up."
Alkorta: "He's going to help us in many ways"
Director of football, Rafa Alkorta, expressed his satisfaction at being able to get the deal for Berenguer over the line.
"I believe he is a football that is going to help us in many ways," Alkorta said, "Above all due to his versatility. He is a footballer with almost 90 matches in the Italian league and I'm sure he'll make a contribution.
"We've seen him a lot, we've been tracking him for some time and when we could snap him up, we did.
"At first, we thought it would be difficult because he was playing a lot for Torino and in many positions, but we kept at it and eventually we managed to get him."
Alkorta also evaluated the current condition of the first team and while he is "concerned", he is also certain the team will hit good form soon.
"It's not true this bad moment has carried over from last season," Alkorta added. "Out of the last 11 LaLiga fixtures after the lockdown, in the first eight we won a lot of points, although the last games weren't good.
"It's true that at the moment we're not doing well and we've got to get used to playing without our people because our people help us a lot.
"We'll get back to winning ways in San Mamés, but it's true that it's been difficult and for us it's especially difficult playing without spectators.
"I'm concerned, but also relaxed because of the coach and the great squad we have. I have no doubt we'll get through this. We stick together and when things aren't going well is when it's most obvious how strong the dressing room is."
+