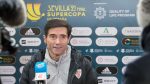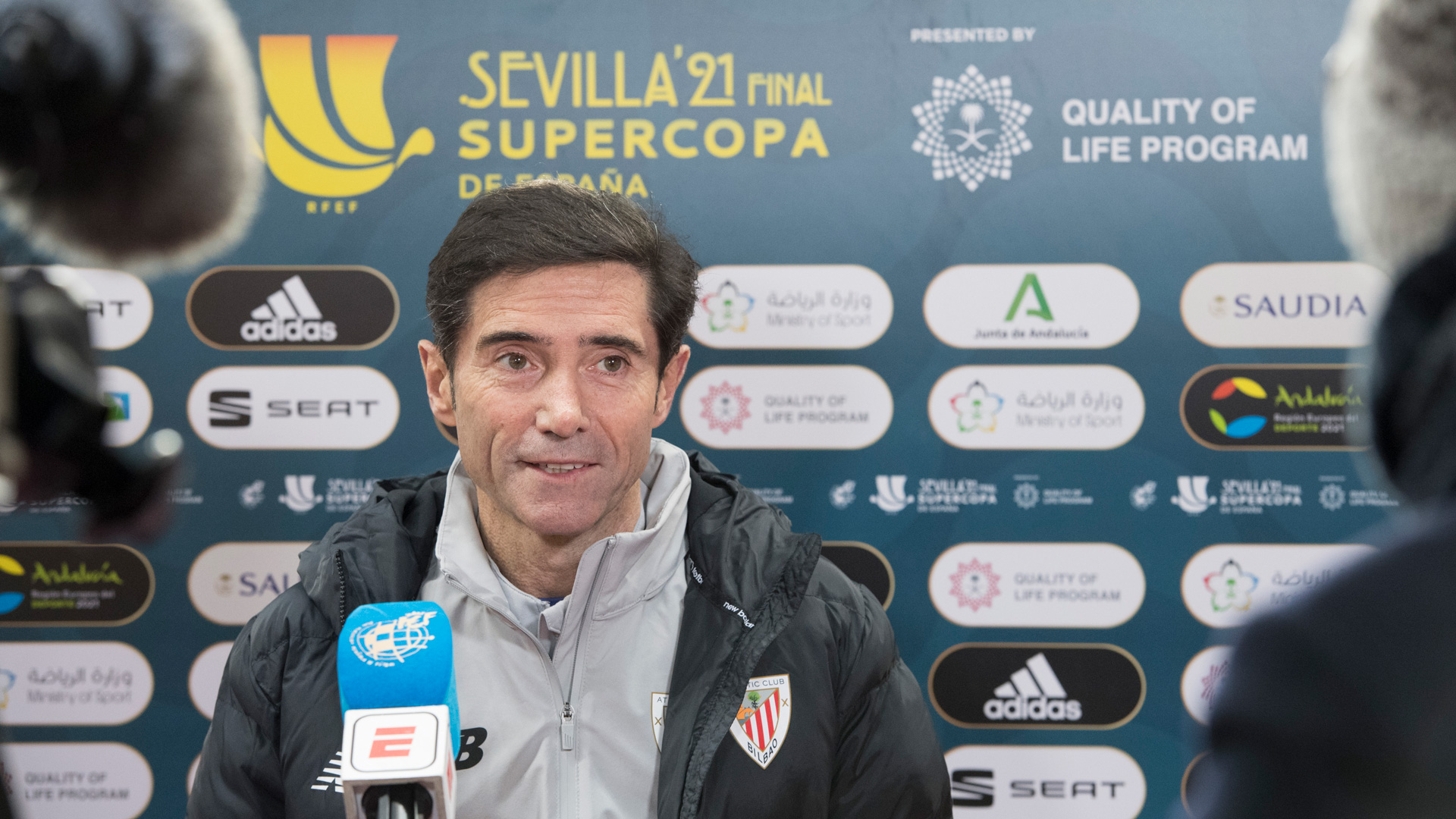 Athletic Club manager Marcelino and striker Iñaki Williams said beating FC Barcelona in Sunday's Spanish Super Cup final would be a massive achievement for the Lions.
By defeating Real Madrid 1-2 on Thursday night, Athletic booked a place in Sunday's final alongside Barça (21:00 CET).
Both Marcelino and Iñaki Williams sat down to answer questions from the press before the big match.
Head coach Marcelino praised the attitude shown by the players since they left Bilbao for Andalusia, reiterating how desperate they are to win.
"The players are really up for it," Marcelino said at his pre-match press conference in La Cartuja. "They're ready to take on the world. They're going to make the effort and play with the intention of beating Barça to become champions.
"For Athletic to win this trophy after defeating Real Madrid and Barça, that would be the best."
"We have to play our own game, but we'll bear in mind how our opponents play," Marcelino added. "We won't change the main concepts, our game won't vary based on whether Leo [Messi] plays or not.
"We have to imagine that he's going to play, that he'll perform at his best and we have to stop him."
With Athletic's last piece of silverware coming in 2015, more than 31 years after they had previously lifted a trophy, Marcelino admitted that winning the Super Cup is important for the Lions.
"Barça will be in the hunt for various trophies throughout the season," Marcelino added. "Athletic have less opportunities and the last trophy we won was five years ago. So we have to do everything and more to win.
"That's what the players are going to do. They're going to leave everything out on the pitch."
The Athletic Club boss gave little weight to the role played by himself and his coaching staff in helping the Lions reach the final.
"We don't feel as though our arrival has made the fans more excited," he said. "We're focused on the job at hand and the main characters are the players. They're the ones who have supported this team since childhood.
"We want the fans to be proud of this team and we want the players to go out there convinced they can beat any opponent."
Athletic Club striker Iñaki Williams emphasised how fortunate Athletic were to have "the opportunity to take a trophy back to Bilbao" and echoed his boss' words in terms of whether or not Messi will be involved.
"It doesn't matter if Messi is there or not," Williams said. "They have more than enough players to replace him, although we know he makes a difference.
"We're going to do our own thing and make them uncomfortable. If they have to beat us, we're going to make them suffer for it."
Williams recalled Athletic's 2015 win over Barcelona and asserted that winning the trophy again would be a great feat for Los Leones.
"We knocked out Real Madrid and if we beat Barça, that would be a historic achievement," Williams added. "The 2015 final was incredible. Few people believed we could do it over two matches and we scored four goals [in the home leg].
"We must go with the same hope, the faith to move mountains. We're a difficult team to beat. When you fight alongside your friends, you're more difficult to beat."
The striker also spoke of the impact the new coach has had since coming in, saying: "Marcelino's arrival was good for us. We were in a bad place.
"Bilbao is excited again, we're in a good situation. The team is convinced we can beat Barça."
+