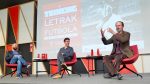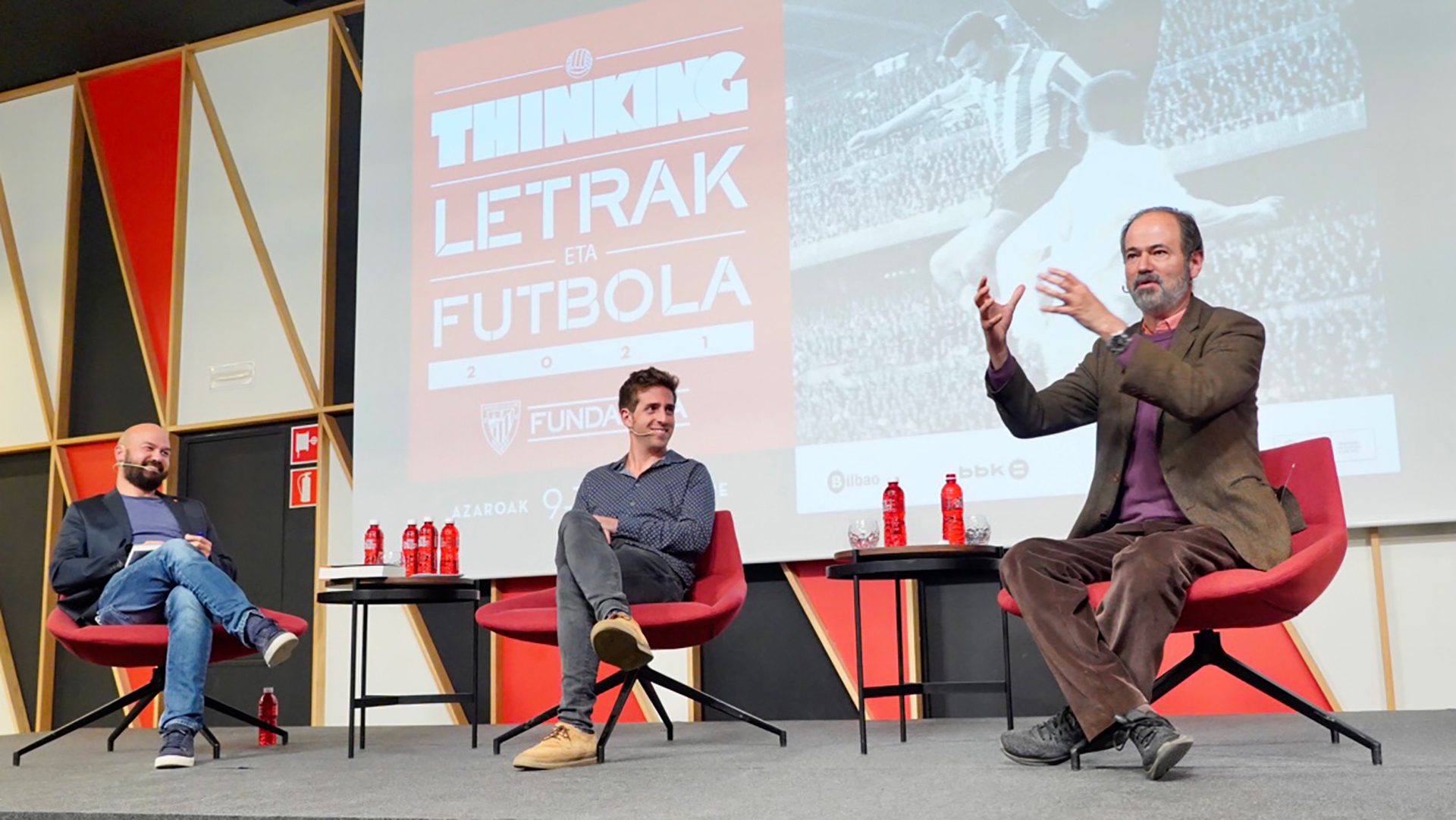 On Wednesday night, San Mames BAT hosted the first literary meeting of the 2021 Thinking, Letters and Football festival. There was a conversation between Mexican writer Juan Villoro and Panenka journalist Marcel Beltrán, which was moderated by Galder Reguera, Project Manager of the Foundation.
Juan Pablo Sorín was unable to travel to Bilbao, but participated in the talk by means of a pre-filmed interview. For those who could not make it to San Mamés, the talk was recorded and broadcast live on Athletic Club's YouTube channel and can be listened to in full HERE.
Of course, the main topic of the night was the relationship between literature and football. Juan Villoro, as was the case on his first visit to the festival, showed himself to be a true football encyclopaedia.
His wisdom is immense, but even more important than his knowledge is the extraordinary talent with which he narrates his countless anecdotes. Villoro dazzled with his word play and in Marcel Beltrán and Galder Reguera he had two great conversationalists who made sure the large audience had a great time.
Thursday, Iribar, Tirapu, Jon Maia and Patxi Gaztelumendi
The third day of the festival is dedicated to the connection between the Basque language and football. Two seemingly different subjects, but brought together and personified by Athletic Club legend José Ángel Iribar. 'El Txopo' dedicated the takings from his testimonial -a match between Athletic and Real Sociedad on May 30, 1980- to the promotion of the Basque language.
Among other initiatives, thanks to Iribar's contribution, director Antxon Ezeiza was able to make a series of short films: 'Mendia eta euskara' (Mountains and Basque), 'Arrauna eta euskara' (Rowing and Basque) and 'Futbola eta euskara' (Football and Basque).
More than forty years later, we will watch the last film and there will be a subsequent conversation between Iribar, Ainhoa Tirapu and the bertsolari (Basque spoken word poet) Jon Maia, moderated by journalist Patxi Gaztelumendi.
The event will take place at San Mames BAT (entrance through Gate 12) at 19:00 CET. Admission is free with pre-booked tickets which can be found HERE.
The Athletic Club Foundation would like to apologise, as it gave Mikel Balenziaga the wrong date and, as a result of this error, the Athletic footballer will not be able to participate in this discussion as was his wish.
+