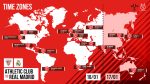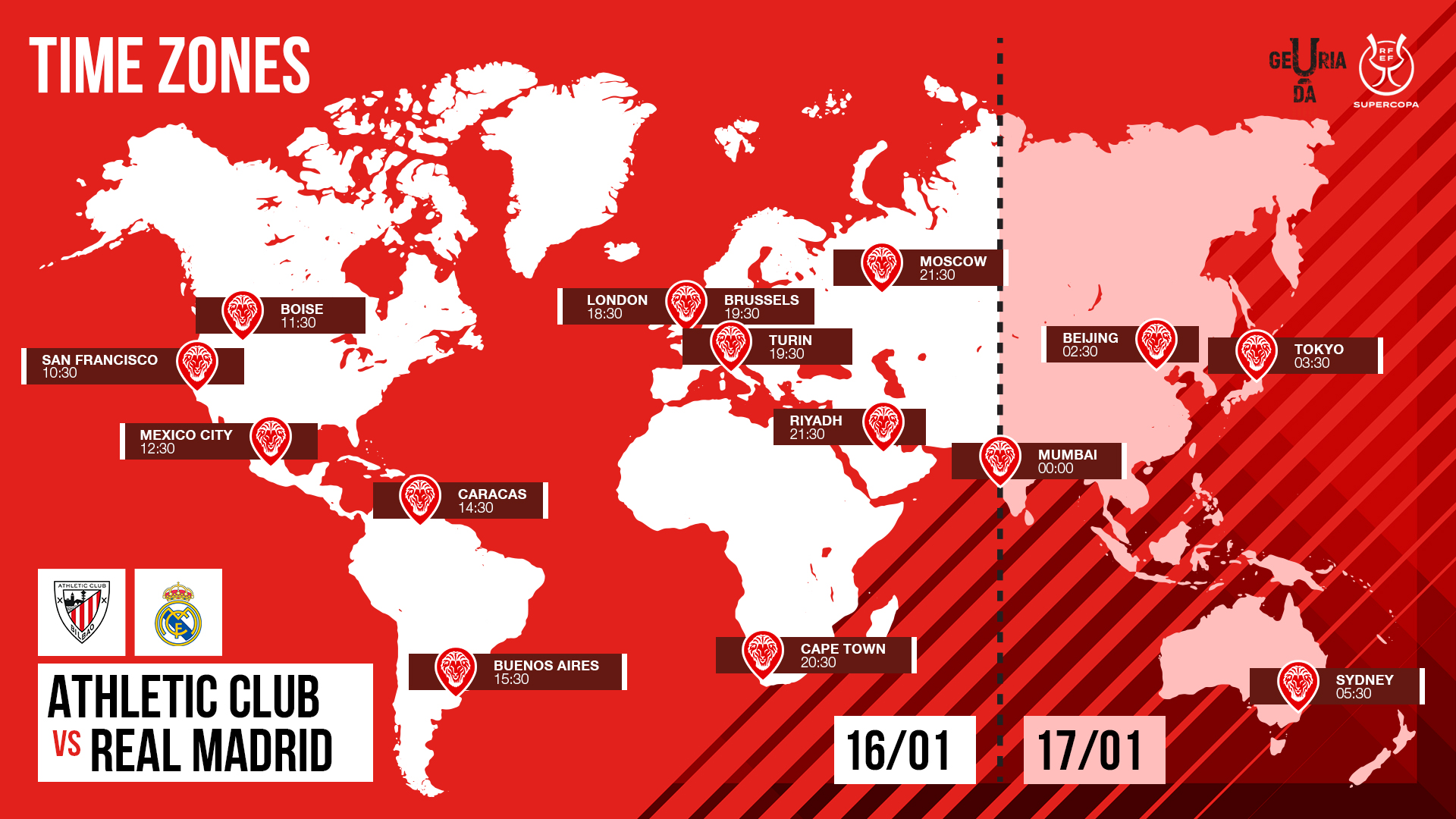 Athletic Club will take on Real Madrid in the Spanish Super Cup Final at the King Fahd Stadium on Sunday. The Lions have reached a second consecutive Supercopa final, and will play in a fourth final in the last year, after coming from behind to defeat Atlético Madrid in Thursday's semi-final.
The Spanish Super Cup Final kicks off at 19:30 CET on Sunday night. Below you have a guide to help you follow the match from wherever you are in the world.
You can also follow the fixture, and keep up to date with everything Athletic related, through the official Athletic Club app, as well as on our website and social media accounts:
Twitter
Spanish: @AthleticClub
Basque: @athletic_eus
English: @Athletic_en
Facebook
www.facebook.com/ATHLETICCLUB/ (Spanish + Basque)
Instagram
@athleticclub (Spanish + Basque)
Website
Spanish: www.athletic-club.eus/
Basque: www.athletic-club.eus/eu/
English: www.athletic-club.eus/en/
In addition to the kick-off times in different countries, below we have compiled a list of broadcasters around the world with the rights to show Spanish Super Cup matches.
Unfortunately, there is no guarantee this particular fixture will be broadcast in your region, so please check with the relevant TV operator as well.
If you want to join or set up an official Athletic Club fan club in your region, this is how to do it:
Global TV Guide
(Sunday, January 16)
The Americas
United States and Puerto Rico: San Francisco (10:30), Boise (11:30), Miami (13:30), San Juan (14:30)
ESPN
Canada: Vancouver (10:30), Toronto (13:30)
Mexico: Mexico City (12:30)
Sky
Central America + Dominican Republic: San José (12:30), Panama City (13:30)
Sky
Caribbean: Kingston, Havana (13:30), Bridgetown (14:30)
DIRECTV Sports Caribbean
South America: Bogotá (13:30), Caracas (14:30), Buenos Aires (15:30)
DIRECTV Sports
Brazil: Brasilia (16:30)
Star+, Now Net e Claro, ESPN Brasil
Africa
North Africa: Casablanca, Algiers (19:30), Cairo (20:30)
Sub-Sahara: Accra (18:30), Lagos (19:30), Cape Town, Nairobi (21:30)
Europe
Iceland 18:30
United Kingdom & Ireland 18:30
BT Sport
Portugal 18:30
Norway 19:30
Denmark 19:30
Canal 9, Discovery+, Eurosport Player Denmark
Sweden 19:30
Discovery +, Kanal 9
Netherlands 19:30
Ziggo Sports
Belgium 19:30
Play Sports or Eleven Sports
France 19:30
L'Equipe, L'Equipe Web, Free
Spain 19:30
Movistar
Austria 19:30
Germany 19:30
Italy 19:30
Nove TV
Switzerland 19:30
Poland 19:30
Eleven Sports
Czech Republic 19:30
Digi Go, Sport 1 CZ/SK
Slovakia 19:30
STV 3
Hungary 19:30
Albania 19:30
Supersport 3
Kosovo 19:30
IPKO TVim
Balkan Nations 19:30
Arena Sport
Malta 19:30
TSN
Finland 20:30
Elisa
Belarus 20:30
Setanta Sports
Baltic States 20:30
Ukraine 20:30
Romania 20:30
Look Sport
Bulgaria 20:30
bTV Action, Voyo Sport
Greece 20:30
Cyprus 20:30
Israel 20:30
Sport 4
Turkey 21:30
Russia (Moscow, 21:30)
Asia
Arab Countries, Iran & Afghanistan: Amman (20:30), Mecca (21:30), Tehran (22:00), Dubai (22:30)
Caucasus Region 22:30
Central Asia: Tashkent (23:30), Nur-Sultan (00:30, Jan 17)
Indian Subcontinent: Islamabad (23:30)
(Monday, January 17)
Mumbai (00:00), Kathmandu (00:15), Dhaka (00:30)
Southeast Asia: Bangkok, Hanoi, Jakarta (00:00), Singapore, Manila (01:00)
China 02:30
Hong Kong 02:30
Macau 02:30
Mongolia 02:30
Japan 03:30
South Korea 03:30
Oceania
Australia: Sydney (05:30)
SBS
New Zealand 07:30
+