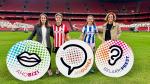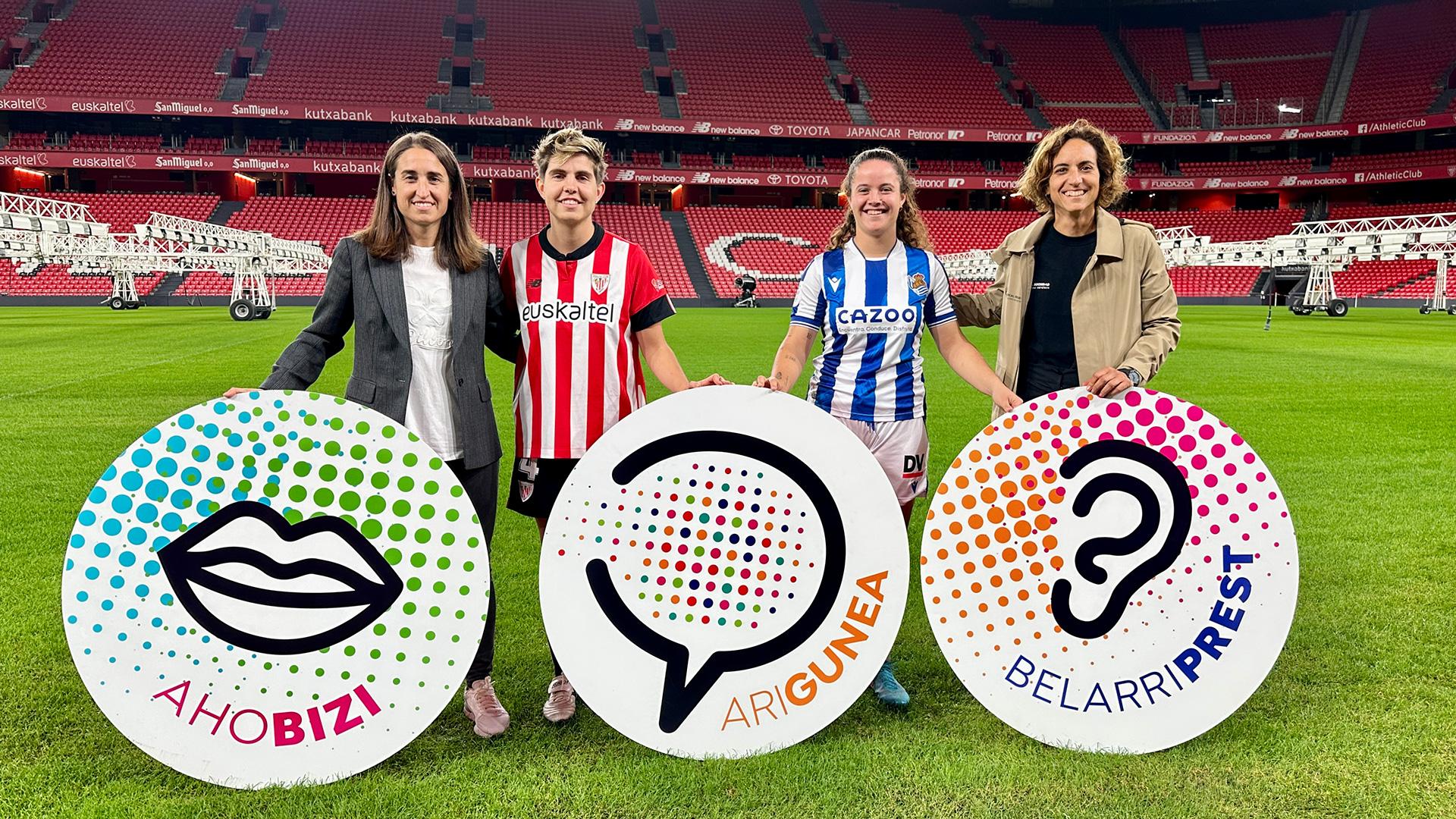 Athletic Club Women head coach Iraia Iturregi wants fans to get down to San Mamés and support the Lionesses during the LaLiga F Basque Derby on Saturday night (20:00 CET).
All is set for a special occasion as the rivals face off at The Cathedral for a second consecutive year. This season's meeting coincides with Euskaraldia, a period to encourage the use of the Basque language, which will kick off on November 18.
"It's an ideal day for people to come to the stadium," Iraia said at an official presentation on Tuesday alongside other figures from both clubs and the Basque Government.
"We've had a difficult start to the season, but three points on Saturday would give continuity to our recent good results. I hope for a good turnout and that the fans give us the boost we need."
Real Sociedad Women boss Natalia Arroyo predicted an evenly matched clash, where there will be a lot at stake. She said: "The derby comes to both teams at a time where we're not in dire need of it, but when it's still important to go out and get three points."
The Lionesses captain Garazi Murua emphasised the importance of the match, noting that Athletic's preparations have had an added feeling of tension and excitement.
"The derby is one of the most special games of the season and, if we play in San Mamés and in support of Euskera, even more so," she said.
"You can feel it in training. We're at our best. It will be difficult, but we'll try to enjoy the day and take all three points."
La Real captain Nerea Eizagirre expects a very emotional game, saying: "Playing at San Mamés is always exciting and good news. It will be an important and special day."
The match, which comes one day after Euskaraldia begins, gives both clubs an opportunity to promote the Basque language.
Euskaraldia is a massive social exercise which encourages speaking Basque in everyday situations in the hopes of normalising its use.
Nerea Ortiz, Athletic Club vice-president, said the match "is an unbeatable occasion to unite Basque and equality at San Mamés".
She continued: "These are pillars to which this Board of Directors is firmly committed. We encourage all Athletic Members and fans, and also those of la Real, to attend this event in favour of the Basque language."
Ortiz's counterpart at Real Sociedad, Joseba Ibarburu, stressed the significance of both clubs helping each other to promote this initiative.
"The fact that Athletic and la Real, both powerful institutions in Euskal Herrria, are supporting Euskaraldia together is very important. We will try to help as much as we can," he said.
Miren Dobaran, deputy minister for the Basque Government's Language Policy, welcomed this Saturday's event in San Mamés. She said: "It is an honour to be here today with two important Clubs, our clubs, with our girls. The fact both are supporting a massive social exercise is not mere posturing. For us, the message is very powerful."
From the organisation that puts together Euskaraldia, Goiatz Urkijo highlighted how the match could help "change habits" when it comes to using Basque every day.
"We want to highlight the importance of this taking place on the second day of Euskaraldia," he added. "We believe it will help us to continue taking steps forward by advocating activity. It's a key event for changing habits, celebrating and raising awareness."