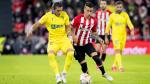 Tickets for Athletic Club's LaLiga Matchday 20 fixture against Cádiz CF will soon go on general sale. The tickets can be purchased via Athletic Club's official ticket channel from Monday January 23 from 10:30 AM onwards.
Over the weekend of January 7 and 8, Club Athletic members will have a priority-purchase period in which they can buy up to two tickets (with the option of one of them being a Child's ticket at a reduced price). They can do so using the link on the tickets channel, which will also be sent to them via e-mail.
One ticket per person and up to a maximum of FOUR tickets per transaction.