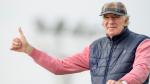 A message from Jose Angel Iribar to the football world and all the people who made possible the touching tribute for his 80th birthday. At Jose Angel's request, Athletic Club Women player Eunate Arraiza provided the sign language translation that accompanies Txopo's message.
"I would like to thank the whole football world for the many tributes I received for 80th birthday. You have touched my heart and that of my family with your gestures towards me and, by extension, towards Athletic Club, which, as you know, is everything in my life. It has been proven once again that we are unique, that we are respected, admired.
"First of all, I have to thank my Athletic, who have designed a fabulous, magical initiative. Never in my wildest dreams could I have imagined so many girls and boys dressed as goalkeepers in my colours and those of their clubs. My eyes still sparkle when I receive their photographs. I cried a lot, but with real excitement, and what can I say about our incredible fans!
"I would like to thank the federative bodies, the referees for allowing the two goalkeepers to wear the same colours, for allowing us to take that precious initial photo of solidarity before the matches... Football is a wonderful sport, and when we're united even more so. I have to thank my Lions who jumped onto the pitch with the black jersey. As fate would have it, it was at Vallecas, where the walk from the changing rooms is the most beautiful. Like a film.
"I don't want to mention too many names, for me they are all great goalkeepers. I have to mention Simón, who couldn't play due to injury, but Julen gave a top-notch performance for Unai and Iru. The same as Quiñones did for Amaia... I've seen world-class goalkeepers proudly wearing black, such as my friends at Celtic...
"I must thank all our keepers: Aitor Fernández, Herrerín, Remiro, Raúl Fernández, Ezkieta, Kepa... I will never forget his touching warm-up at Chelsea with my surname on his back, nor our reunion. I know that many more tried to play in black, but the rules prevented it. Thank you, De Gea. I suffered for you on Sunday. The goalkeeper, alone befpre the storm. That's the job.
"Finally, I want to mention the first gift, the letter that Bilbao City Council and Athletic Club sent me, the statue they promised me at the entrance to San Mamés. I see it as a tribute to all of us who wear the shirt of this great Club. I would say that Iribar is great, but that Athletic is. There is none other like Athletic."
+