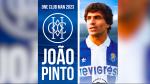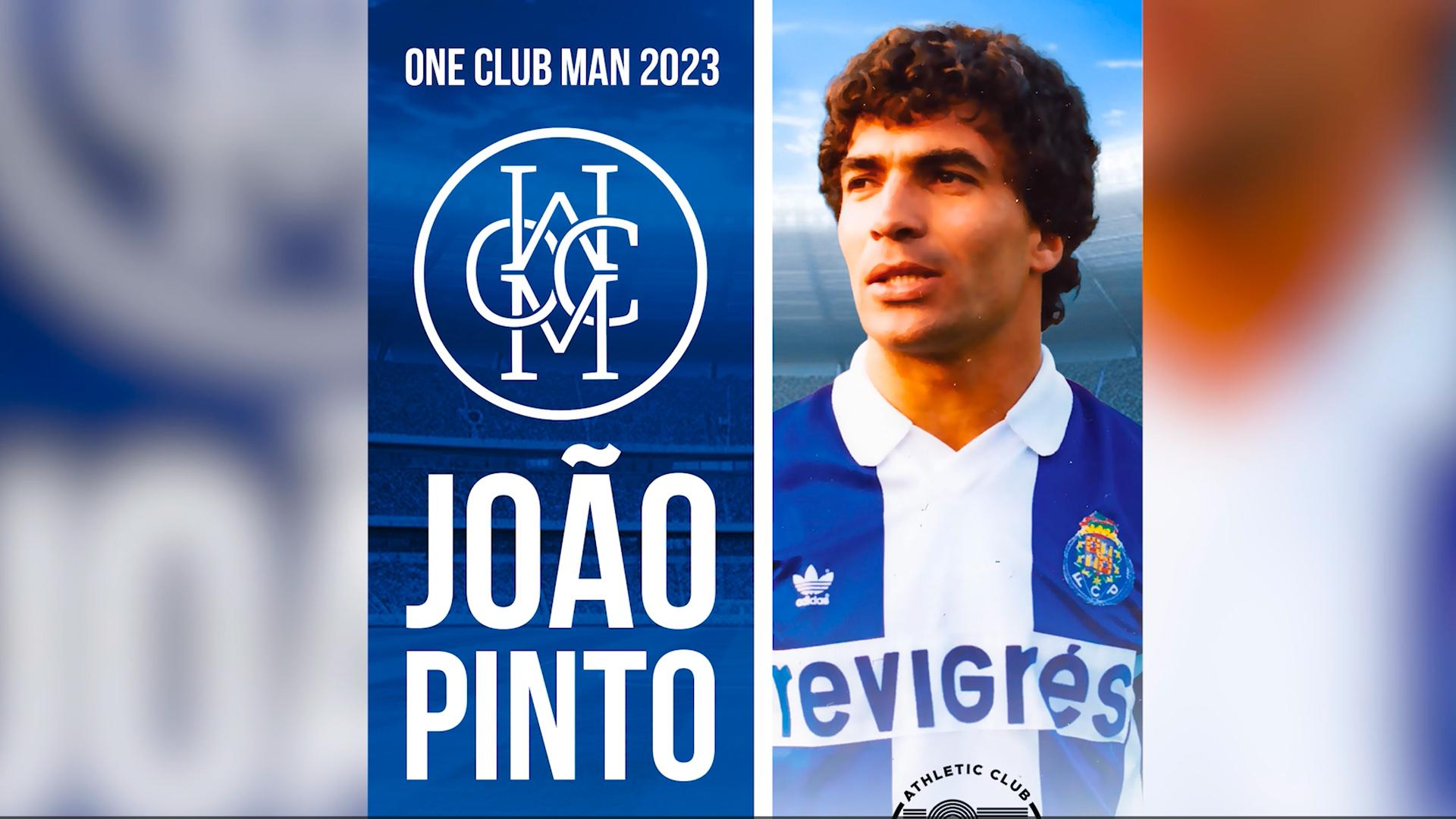 João Domingos da Silva Pinto (Born in 1961 in the town of Vila Nova de Gaia), better known as João Pinto, is Athletic Club's 2023 One-Club Man. The legendary international defender is the perfect embodiment of those footballers who combine professionalism with love for their club - in João's case, FC Porto.
💙🐉 Lenda do @FCPorto

⭐️ João Pinto will receive the 2023 One-Club Man Award at San Mames during #AthleticGetafe, on September 27.#OCM23 #AthleticClub 🦁 pic.twitter.com/akvwBbEMal

— Athletic Club (@Athletic_en) September 14, 2023
With 587 appearances in 16 seasons for Dragões (the Dragons), no other footballer has played more matches for FC Porto in their 130-year-long history.
João Pinto will receive the One-Club Man award at San Mames on 27 September during Athletic Club vs Getafe CF (kick-off, 19:00 CEST), the day before the Azuis e Brancos (Blue and Whites) commemorate their 130th anniversary on 28 September.
The award brings together two iconic clubs in European football, both of which have reached important milestones in 2023 - at Athletic Club we are currently celebrating our 125th anniversary.

Download the One-Club Man 2023 report.
João Pinto, our One-Club Man 2023, and FC Porto join a noteworthy list of footballers and clubs to receive this accolade:
Matthew Le Tissier (Southampton FC), OCM 2015. Paolo Maldini (AC Milan), OCM 2016. Sepp Maier (FC Bayern Munich), OCM 2017. Carles Puyol (FC Barcelona), OCM 2018. Billy McNeill (Celtic FC), OCM 2019. Ryan Giggs (Manchester United FC), OCM 2020. Ricardo Enrique Bochini (CA Independiente de Avellaneda), OCM 2022.
Furthermore, the One-Club Woman Award has been presented to: Malin Moström (Umeå I.K.), OCW 2019. Pia Wunderlich, (FFC Frankfurt), OCW 2020. Jennifer Zietz, (1.FFC Turbine Potsdam), OCW 2022. Matilde "Mati'' Martínez (Fundación Albacete), OCW 2023.
A life in Blue and White
The Dragons' captain fantastic with the no.2 on his back, João Pinto put together an impressive trophy cabinet during a playing career that lasted from 1980 until 1997: nine Portuguese League titles, four Portuguese Cups, eight Portuguese Super Cups, one European Cup, one European Super Cup and one Intercontinental Cup.
He was a right full-back with tenacity and remarkable physical capabilities - a truly invincible dragon. Renowned English coach Bobby Robson said Pinto had "two hearts and four legs", while there are several other anecdotes which reflect João's dedication and love for FC Porto.
For example, the right-back once painted the tip of his sock with black grease to hide the fact he had cut off part of his boot after injuring his toe. Despite the situation, he still performed magnificently.
João Pinto joined FC Porto's youth academy as a 14-year-old. He made his first-team debut on 1 December 1981, and the following season, with Jose Maria Pedroto as head coach, he became the first-choice right-back - a position he would not relinquish until the end of his career.
In 1983/84, he won his first Portuguese Cup after Porto beat Rio Ave FC 4-1. That same year, the Dragons finished runners-up in the European Cup Winners' Cup, losing to Juventus in the final in Basel.
The Italians beat the Portuguese side 2-1, but the core of that Porto team continued to progress and win trophies. They even went on to lift the former European Cup (now known as the Champions League).
Coached by Artur Jorge, the "Azuis e Brancos" (Blue and Whites) beat Bayern 2-1 thanks to a comeback started by Rabah Madjer's iconic back-heel goal and completed by Juary.
A young Paulo Futre, signed by Atlético Madrid that same summer, also stood out in that team led by João Pinto. Months later, on 13 December 1987, FC Porto won the Intercontinental Cup, beating Uruguay's Peñarol on a snowy pitch in Tokyo. They were the first Portuguese team to lift the trophy.
FC Porto achieved an international treble in January 1988 after defeating AFC Ajax in a two-legged European Super Cup final.
After a lifetime of service to his beloved club, João Pinto decided to hang up his boots at the end of the 1996/97 season. In his farewell ceremony, the legendary defender symbolically handed the no.2 jersey and the captain's armband to Jorge Costa.
Portugal international at Euro 1984 and World Cup 1986
In addition to a fantastic career with FC Porto, João Pinto was capped 70 times by Portugal, 48 of them as captain. With his 67th appearance, João Pinto became Portugal's most capped player ever at that point - a record he held until Vítor Baía surpassed it.
Pinto was part of the Portugal squad that played in the 1984 European Championship in France and the 1986 World Cup in Mexico. At Euro 84, João Pinto performed at a high level and was an undisputed starter as Portugal narrowly missed out on reaching the final.
In the semi-finals, hosts France beat Portugal 3-2 thanks to an extra-time strike - Michel Platini ending Joao Pinto's dream of lifting the trophy for his country.
The right-back's international farewell took place in 1996 at the ground which always idolised him, the Estadio das Antas - FC Porto's stadium until it was replaced by the Estádio do Dragão in 2004.
FC Porto and Athletic Club
The last time the Portuguese Dragons and the Basque Lions met was in 2014, during the Champions League group stages. FC Porto won both matches and Athletic, coached by Ernesto Valverde, were knocked out of the competition after finishing third in their group.
Our first official match against each other was in the 1956-57 European Cup. The away leg at Das Antas on 20 September 1956 was Athletic's first ever appearance in Europe's top competition, and the Lions won 1-2 thanks to goals from Piru Gainza and Nicanor 'Canito' Sagarduy. The Zurigorri then took the tie thanks to a 3-2 victory in Bilbao, José Luis Artetxe netting a historic hat-trick.
FC Porto and Athletic Club have met on four other occasions in friendly matches, but never while João Pinto played for the Azuis e Brancos.
On 27 September, (67 years on from that first European Cup tie) the legendary Portuguese defender will receive a standing ovation from the Athletic Club fans at San Mames as he collects the 2023 One-Club Man trophy from our iconic goalkeeper Jose Angel Iribar. This award honours values which all fans desire to see in their idols even if those principles have become increasingly rare in modern football.
João Pinto's career in numbers
16 seasons at FC Porto
587 appearances
Nine Portuguese league titles (1984/85, 85/86, 87/88, 89/90, 91/92, 92/93, 94/95, 95/96 & 96/97)
Four Portuguese domestic cups (1984, 1988, 1991 & 1994)
Eight Portuguese Super Cups
One European Cup (1986/87)
One Intercontinental Cup (1987)
One European Super Cup (1987)
70 international caps for Portugal
+