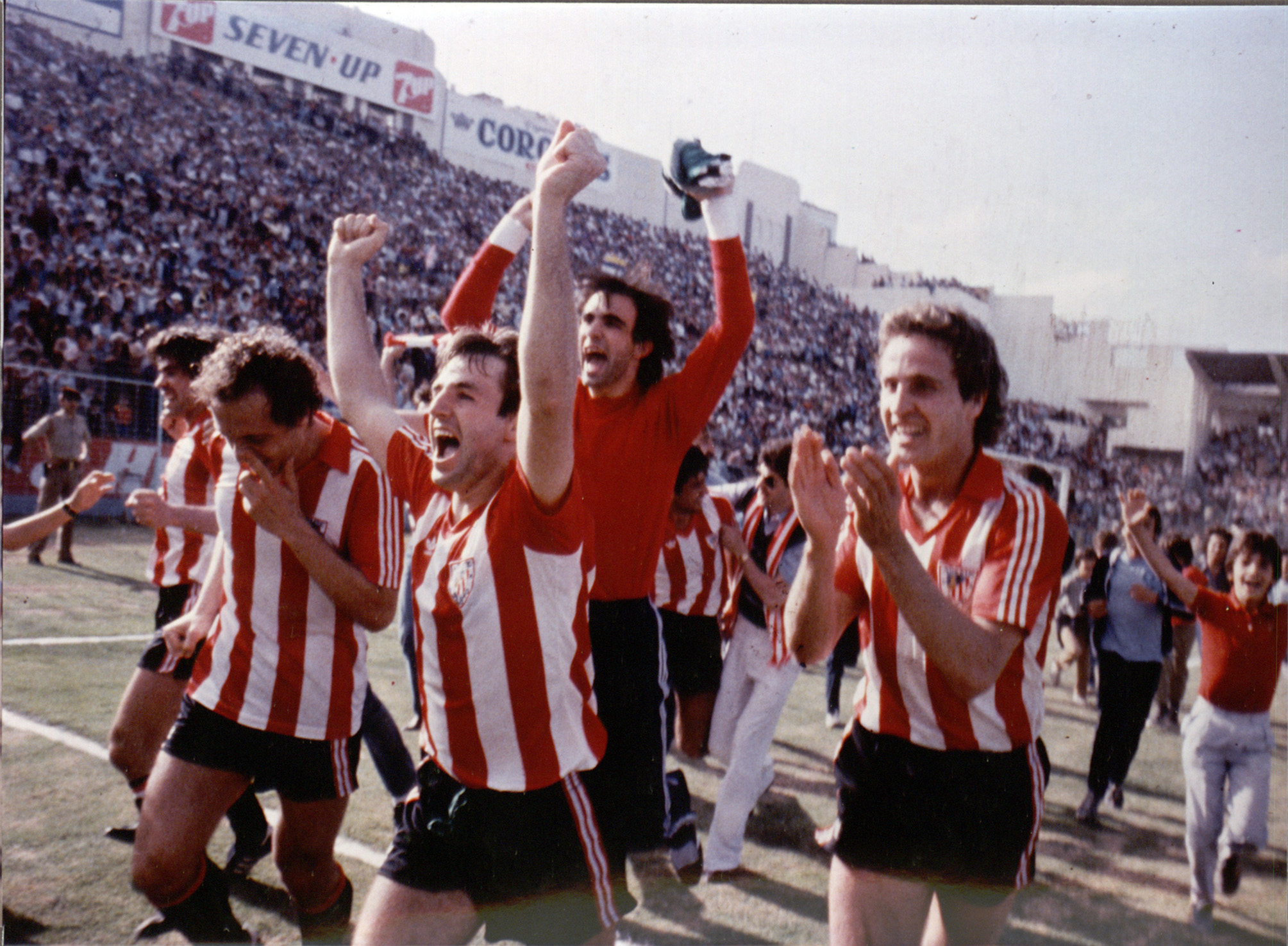 Today, 37 years ago, in 1983 May 1st a vibrant match was played in the First Division. Throughout 90 minutes of a Sunday evening (all matches started at 5.30pm), many changes took place at the top of the ranking – Real Madrid were virtual champions until the 40th minute – and at the bottom, Racing, Celta and Las Palmas were placed – Athletic was facing at Estadio Insular – ended up being relegated. A memorable day in the history of the League that ended up with Athletic Club as champions 27 years after their last League title.
The final day was led by Real Madrid, who only needed a draw against Valencia to win the title. The Club from Valencia, almost sentenced, would only be saved from relegation by a victory and by being lucky with the rest of the results. As miraculous as it may seem, this is exactly what happened. Valencia – led by the ex-league player Koldo Aguirre – did beat the Real Madrid by 1-0 and avoided relegation. Real Madrid were thus shipwrecked in favour of an Athletic team that did its homework with a crushing 1-5 victory over UD Las Palmas. And, hence, achieving its seventh league title.
Liga ospakizuna. De Andres, Sola, Liceranzu eta Cedrun ageri dira argazkian (AC Museoa)
Heart attack epilogue
The lions arrived with a glimmer of hope to win on the final day of that 1982-83 Liga, but for that to happen they needed to win against UD Las Palmas, which needed a point, and for Madrid to lose in Valencia, to avoid relegation. Everything fell into place and Athletic finally won the title, despite a poor game at the beginning of the clash, with De Andrés scoring an own goal that led to 1-0 in the opening minutes. Clemente's players reacted quickly and turned the score around before the break with goals scored by Sarabia and Dani. Subsequent goals from Sarabia, Urtubi and Argote closed the score and a red-and-white win that gave way to a memorable celebration in the field and in the dressing room of the Canarian stadium. U.D Las Palmas, meanwhile, was leaving the elite of Spanish football after 19 uninterrupted seasons at the top category.

Manolo Sarabia (he scored two goals that afternoon) and Liceranzu, in front of Las Palmas' goalkepeer (AC Museoa)



Julio Salinas, De Andrés and Sola hugging each other, after winning Liga tittle (AC Museoa)

Dani and Javier Clemente (Athletic's coach) (AC Museoa)
+