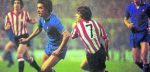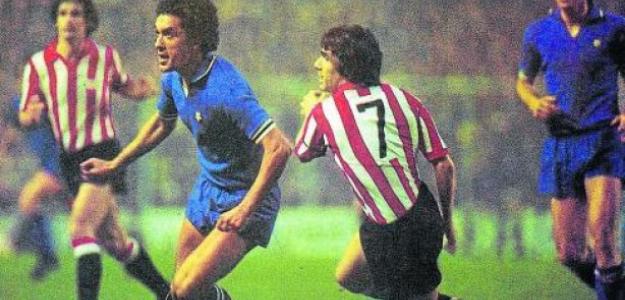 Athletic's 2-1 victory against Juventus FC at San Mamés was not enough for the lions to win the UEFA Cup on this day 43 years ago. The final, held in the first leg in Turin and then in Bilbao, remained in the balance until the final whistle, as one more goal from Athletic would have made the lions win. In the end, the UEFA Cup flew to Italy, as the goal average (1-0 in the first leg) led Juventus to win on aggregate.
Bettega's early goal in the sixth minute of the match was eventually decisive, although Athletic reacted with great enthusiasm and drew just five minutes later. It was Irureta who beat Dino Zoff after sending Churruca's shot into the net. In the second half, Carlos' impeccable header in the 77th minute put Athletic just one goal away from winning the UEFA final.
The lions were desperately looking for that third goal that would give them glory, but unfortunately it never came. The Italians defended their lead and managed to take the championship.
Iribar and Dino Zoff
That European final in 1977 faced two world football myths: José Ángel Iribar and Dino Zoff, considered to be two of the greatest goalkeepers in history. The legendary Italian goalkeeper, who won the 1982 World Cup with the Italian national team at the age of 40, recently praised 'Txopo' Iribar. When asked about the greatest national goalkeeper in history, Zoff replied: "Of my generation, I think Iribar was a great goalkeeper."