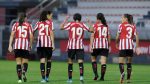 The Copa de la Reina 19/20 semi-final between EDF Logroño and Athletic Club Women will take place next Wednesday, October 7.
The fixture had been postponed since March 2019, but now has a fixed date. It will be held in Las Gaunas (Logroño), with the kick-off time yet to be confirmed.
Athletic's Copa semi-final opponents have brought in serious reinforcements over the summer period. The lionesses are in for a tough game if they want to progress to the final of the competition for the first time since 2014.
In the other semi-final FC Barcelona take on Sevilla FC on Thursday, October 8.
What's more, Ángel Villacampa's lionesses start their Primera Iberdrola campaign this coming Saturday with a home match against Deportivo Abanca.