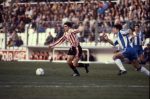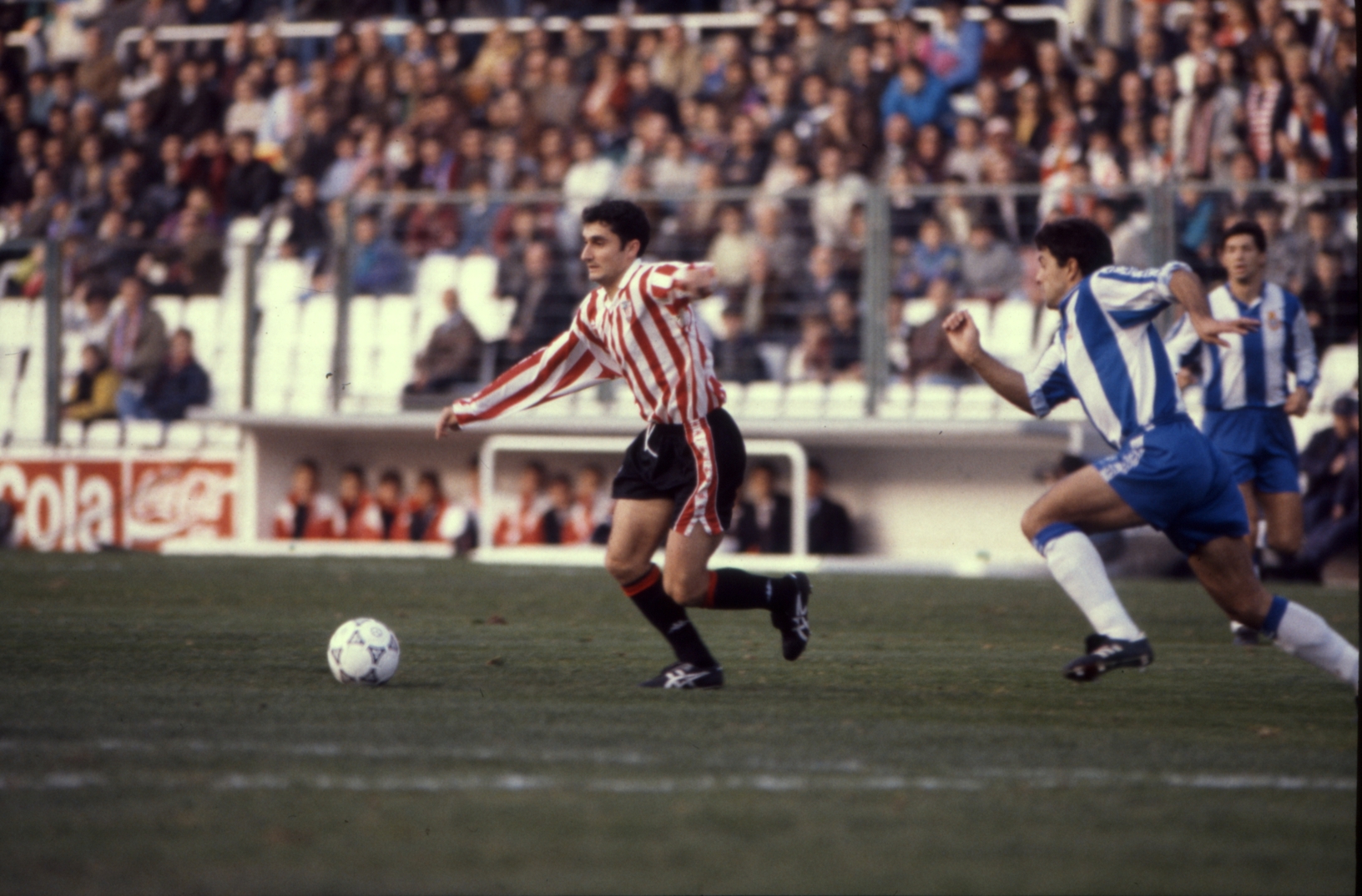 Ernesto Valverde, born on February 9, 1964, fully deserves his place among Athletic Club's greats. As a head-coach he broke records and won silverware, but he was also a distinguished footballer, who led the Athletic forward line for over half a decade.
Known as Txingurri ('ant' in Basque), Valverde signed for Athletic as a player in July 1990. A skilful centre-forward, he was 26 when he joined the Lions, and already eight seasons into his football career.
In 1982, he made his senior debut at Alavés, his hometown side, before moving on to Sestao Sport, RCD Espanyol, where he reached a UEFA Cup final in 1988, and then FC Barcelona.
Ernesto was brought to the city of Bilbao by Javier Clemente, the man whose Athletic managerial record Valverde would go on to break, and also his former coach at Espanyol.
An Athletic Club fan since childhood, Ernesto was eager to join the Lions, pushing for the transfer when it became clear Barça wanted to move him on.
"It's well known that my relationship with this club goes far back," Valverde said at his unveiling. "That Clemente is here was an influence, but it wasn't the most important factor."
Txingurri spent six years at San Mamés, going on to form lethal and successful partnerships with fellow forwards, such as Kuko Ziganda and Julen Guerrero.
The 1990-91 season, his first at the Club, was his most successful on a personal level. He was Athletic's top goalscorer that campaign with 16 goals in all competitions.
A technically gifted striker, Valverde was extremely versatile, one of the reasons why he complemented other strike partners so well.
He wasn't quite a no.9, not quite a no.10 either, but somewhere in between, although he could play in both those roles too. Furthermore, he could also do a job out wide when asked.
Two-footed, quick and agile, Ernesto loved to dribble past opponents and was exceptional when playing in tight spaces. These qualities in addition to his intelligence and movement in the box meant he could hit the back of the net in a variety of situations.
In his six seasons (1990-96) playing for the Lions, Valverde scored a total of 50 goals in 188 appearances.
Five standout moments as a player (in date order):
1. First goal for Athletic, winner vs Real Burgos CF
09-09-1990 – LaLiga Matchday 2
vs Real Burgos CF (H)
Valverde scored his first goal as a Lion in his home debut. Athletic were playing Real Burgos in the first LaLiga match of the 1990-91 season at San Mamés. It was Txingurri's 78th-minute strike which ensured the Lions won 2-1 and took all three points.
06-10-1990 – LaLiga Matchday 6
Vs FC Barcelona (A)
Ernesto's first match back at the Camp Nou was a bittersweet moment. Although Athletic lost 4-1, Txingurri scored a marvellous goal.
While not his most important strike for Athletic, it is widely considered his best.
It was an exquisite show of technique and precision. With Athletic 1-0 down, Valverde controlled a long pass at the top-left edge of the box, before cutting back onto his right foot and curling a shot into the top-right corner of the net.
"No, this isn't any kind of revenge or payback because in the end the goal didn't mean anything," Valverde said after the match.
However, it wasn't the only time Txingurri scored against his former team whilst at Athletic.
In the 93-94 campaign, it was Valverde who kicked off proceedings with a second-minute goal as Athletic ran out 2-3 winners in Barcelona.
The Lions have only won a LaLiga match at the Camp Nou on one other occasion since then.
15-12-1990 – LaLiga Matchday 15
Vs Real Madrid (H)
The newspapers claimed Valverde was a "nightmare" for the Real Madrid defence in this iconic fixture.
Txingurri scored the only goal of the match in the 78th minute as Athletic recorded a memorable win over Los Blancos at San Mamés – the first time the Lions had beaten Real Madrid at San Mamés in LaLiga since 1983-84.
And what a goal it was. Valverde perfectly trapped a long diagonal ball with his left foot at the far-post, moved the ball on to his right and smashed it into the top of the net.
4. Brace against Tenerife at San Mamés ensures European football
14-05-1994 – LaLiga Matchday 38
Vs CD Tenerife (H)
Heading into the last match of the 93-94 campaign, Athletic sat sixth-placed in the table on 41 points, while Sevilla, fifth with 42 points, took up the last UEFA Cup spot. All of Bilbao and Bizkaia were on tenterhooks.
Athletic qualified on the last game of the season in what was one of the most dramatic fixtures San Mamés has ever seen – and of course Valverde played a starring role.
A couple of poacher's goals by Txingurri in the opening 20 minutes put Athletic thoroughly in charge of the fixture.
But a five-minute second-half salvo by Tenerife threw Athletic's chances into doubt.
Fortunately, in the 66th minute, Kuko Ziganda scored the winner. He was smart enough to finish from the scuffle which followed his own saved penalty.
Sevilla FC were thrashed 5-2 by Barcelona, who pipped Deportivo La Coruña to the LaLiga title, meaning Athletic finished fifth on 43 points, one point ahead of Sevilla.
In 94-95, Athletic played in Europe for the first time since 1988-89.
5. Final goal for Athletic, vs Tenerife 1996
21-04-1996 – LaLiga Matchday 37
Vs CD Tenerife (H)
Injuries had a massive impact on Valverde during his last season as a lion.
The striker only made 13 appearances in the campaign and scored just the one goal.
It came at a delicate part of the season. Athletic were only four points away from the relegation zone and there were concerns the Lions could be dragged down into a battle for survival.
Txingurri opened the scoring in the third minute and teed up Ziganda for the second.
It was a vital win which saw Athletic move six points away from the drop at a crucial point.
With his last goal for Athletic, Valverde hit his half century and played a small but important role in moving his club up the Primera División table.
At the end of the season, Ernesto left Bilbao and signed for Real Mallorca, where he spent one further season before hanging up his boots.
In the dugout
After retirement, Txingurri quickly moved into coaching. He came back to Athletic and made his way up the ranks at Lezama before taking over the first team in 2003.
Across two spells (2003-2005 & 2013-2017) as Athletic's head-coach, Ernesto wrote a few more significant pages into the Club's history books.
Amongst other achievements, he broke Clemente's record (289 matches) for most games in the dugout -managing Athletic in 306-, took the Lions back to Europe in 2004 and also to the Champions League in 2014, led the side to four consecutive LaLiga Santander top-10 finishes -the first time that had occurred since the 80s- and they also reached the Copa Del Rey final in 2015.
On top of all that, Txingurri was in charge when Athletic won their first piece of silverware in 31 years, leading the Lions to Supercopa victory over Barça in August 2015.
Few people in the modern era have had a greater impact on Athletic than Ernesto Valverde, and Txingurri's love for Athletic hasn't dwindled either.
At the 2020 Bilbao International football summit, Valverde stated "coaching Athletic is the best thing I've ever done in my career" and he still views winning the Supercopa as his finest managerial achievement.
But let's not forget, before Ernesto Valverde the manager, there was Ernesto Valverde the player, and he most definitely left his mark too.
+