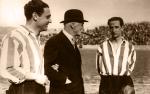 On March 25, 1923, Englishman Frederick Beaconsfield Pentland, known to most Athleticzales as Mister Pentland, took charge of his first official match as Athletic Club manager, leading the Lions to a 1-3 win over Real Madrid in the Copa quarter-finals.
The Zurigorri would go on to win that year's edition of the tournament, defeating CE Europa 1-0 in the final.
During two spells at the club (1922/23-1924/25 and 1929/30-1932/33), Mr Pentland became the most decorated coach in Athletic history, lifting two LaLiga titles (1929/30, 1930/31), five Copas del Rey (1922/23, 1929/30, 1930/31, 1931/32, 1932/33) and five Regional Championships (1922/23, 1923/24, 1930/31, 1931/32, 1932/33).
But it was not just the silverware that turned Fred Pentland into an Athletic legend. He ushered in professional standards, changed training habits and introduced tactics based on intensity, possession and wing-play that have since become synonymous with Athletic Club.
What's more, Pentland did all of this with character and personality, his cigars, bowler hat, sense of humour and humanity ensuring that even a century later he remains a revered figure in Bilbao.
Born in Wolverhampton in July 1883, Pentland came up through the ranks at Small Heath (now known as Birmingham City FC), before embarking upon a modest career as an outside-right which saw him play for a range of top English clubs, including Blackpool, Blackburn Rovers, Brentford, QPR, Middlesborough, Halifax and Stoke.
His most successful period as a player came at Middlesborough, where he earned five England international caps, all of them coming in 1909.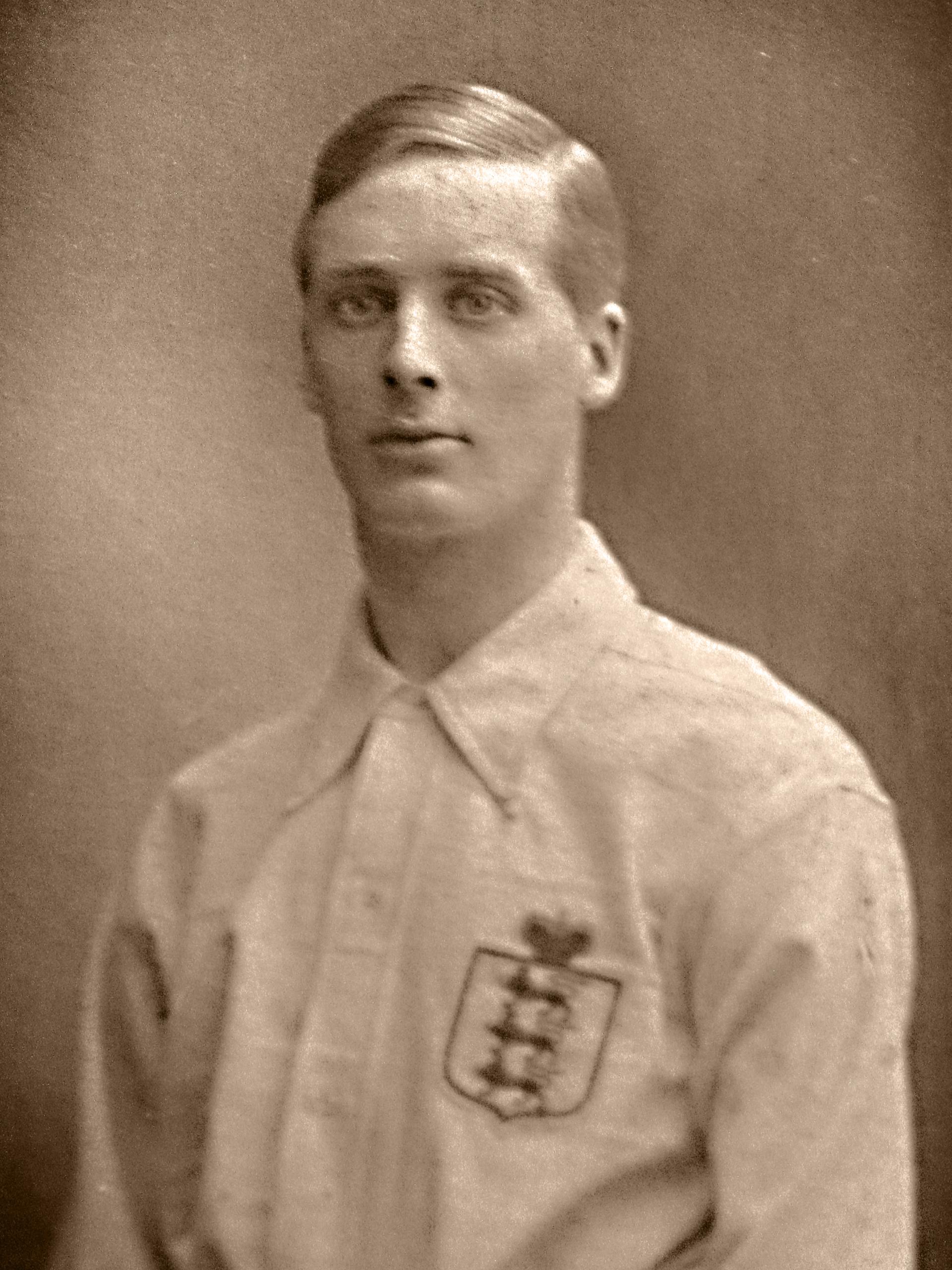 After hanging up his boots in 1914, Pentland quickly moved into management. Clubs and federations all over Europe were keen to hire former professional British players, believing their expertise could improve standards. At the same time, Pentland and many ex-players felt English football had become too set in its ways and saw the burgeoning game in Europe as the perfect place to experiment with tactics and training methods.
In 1914, he travelled to Berlin to lead the German national team at their 1916 home Olympics. However, within months of his arrival, the First World War broke out and Pentland was interned along with almost 5,000 others at Ruhleben, a civilian detention camp set up at a former horseracing track outside Berlin.
Pentland's four years in the camp had a massive impact on his approach to football and, more importantly, his approach to people. During his imprisonment, he helped set up a football league with fellow detainees, becoming chairman of the Ruhleben Football Association and penning articles on the sport for the camp's internal magazine.
"Only those who've been incarcerated in a concentration camp can understand the joy playing sports can bring," Pentland wrote in the introduction to a book he penned on football tactics while at Ruhleben.
He was one of several professional footballers at Ruhleben, most of whom would go on to become managers. Curiously, one other also went on to coach a Basque team. Steve Bloomer, a former Middlesborough teammate of Pentland, was the Real Unión manager from 1923-1925, taking the "Txuri-beltz" to Copa glory in 1924.
Once the war ended and Ruhleben's detainees were released, Fred Pentland returned to England. But it was not long before Europe called again. In 1919, he became player-coach at AS Strasbourg and he led the French national team at the 1920 Olympic Games. In 1921, he joined Racing Santander, but a season later Los Rojiblancos convinced him to move to Bilbao.
Pentland revolutionised the way football was played at Athletic. He always maintained that he had no defined tactic and would set-up according to the match. However, he often ditched the 2-3-5 formation which dominated European football at the time, instead opting for a 2-5-3 set-up as he wished to dominate the midfield and create overloads on the flanks.
Furthermore, he instructed players to keep the ball on the floor and pass to feet, rejecting the "kick long and rush" style of the time. But most important of all, Pentland emphasised the team over the individual, while still maintaining an environment where talented players could flourish.
He also introduced changes off the field, encouraging Athletic to give players professional contracts, organising structured weekly training sessions, teaching players how to properly take care of their feet, and even showing them a new way to tie boot laces in order to prevent injuries.
"Get the simple things right and the rest will follow," the Englishman would often tell his charges.
Pentland made his unofficial Athletic debut, the Lions beating Real Sociedad 1-3 in a friendly at El Malecón, in Torrelavega, Cantabria on August 13, 1922 as part of the stadium's inauguration.
His first match at San Mames was a 2-4 defeat against Austrian side Greuther Furth and his first win at The Cathedral was a 6-0 victory over SD Erandio.
The Englishman's first official match at the helm came in Copa quarter-final against Real Madrid on March 25, 1923. Athletic won 1-3 in Madrid and 5-0 in Bilbao.
In the semi-finals Athletic faced Real Sociedad, drawing 0-0 first leg in Donostia and winning 2-0 at San Mames. Pentland won his first trophy with a hard-fought 1-0 victory over CE Europa at Les Corts.
"My team has won and it's only logical that we're happy. It wasn't a pretty match, but that natural when it comes to a final," Pentland said after the final.
At the end of his third season in Bilbao, Pentland left for Athletic Madrid (as Atletico Madrid were known back then) after being unable to reach an agreement to carry on at Athletic Club.
He was in Madrid for one year and then Real Oviedo for a season before returning to Athletic Madrid for another two years. In 1929, Pentland came back to Athletic, kickstarting a golden age for the Club which included two LaLiga-Copa doubles (the first team in Spanish football to achieve the feat) and four consecutive Copa triumphs.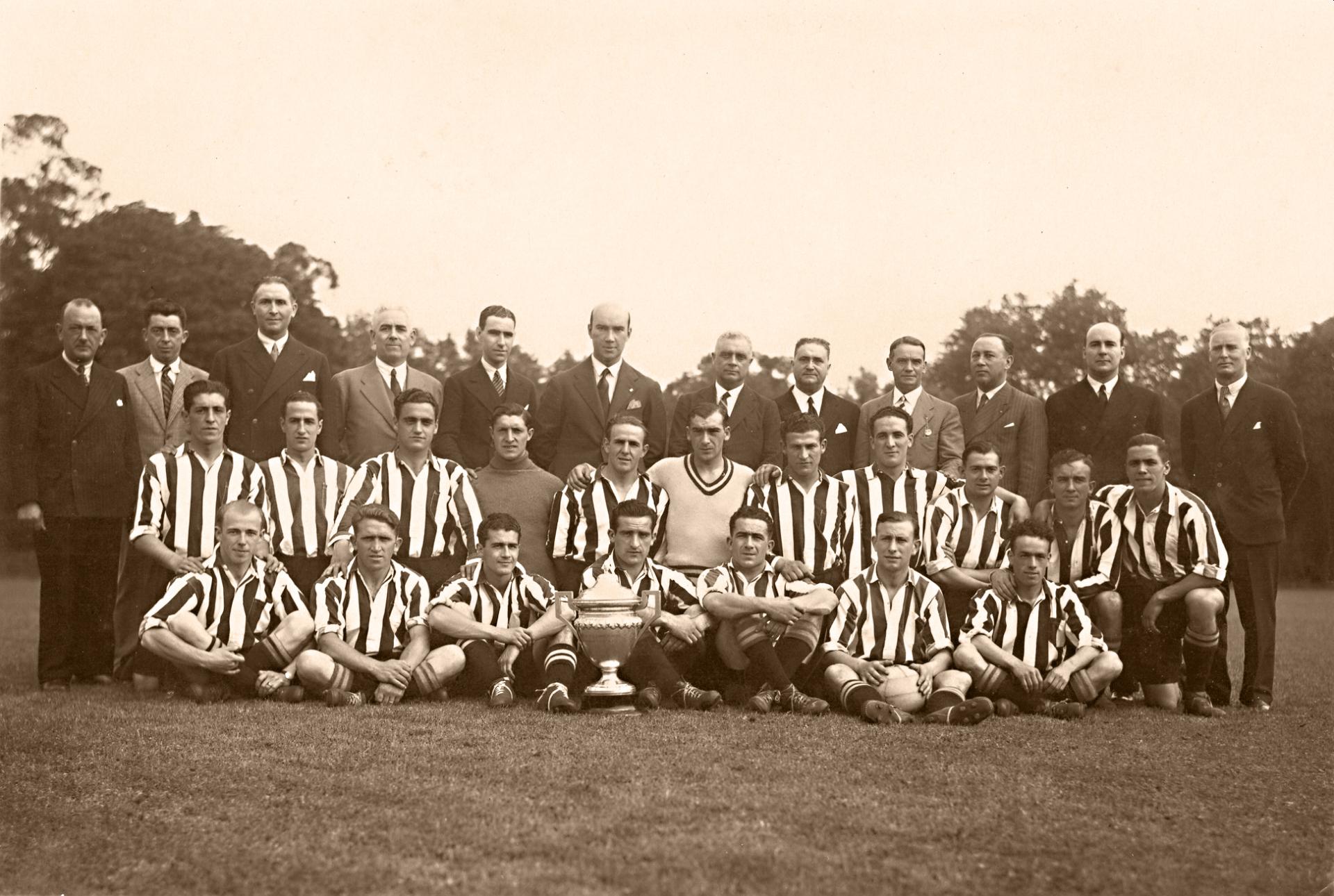 Los Rojiblancos lifted their first ever LaLiga title in the 1929/30 campaign, managing to go the entire season unbeaten with 12 victories, six draws from 18 matches. In the Copa, Athletic beat Real Madrid 3-2 in the final.
The Lions won another double the following season, this time defeating Real Betis 3-1 in the Copa final.
Fred's eccentricity and sense of humour were also on show during this match. With full-time approaching, Pentland took off his famous bowler hat and said "¡Que poco te queda bombín. Sólo tres minutos!" (Only three minutes left for you, bowler hat!).
By this point, the Athletic players had established a tradition, which began in the manager's first spell at the club, of taking Pentland's famous hat and stamping it into the ground after winning important matches.
It was also the season in which Athletic registered a club record victory which still stands to this day, a 12-1 win over FC Barcelona at San Mames. What's more in the same campaign, Los Leones defeated Real Madrid 0-6 at Charmartin, to this day Los Blancos' heaviest home defeat.
Mr Pentland led the Zurigorri to two more Copa wins under his tenure, a 1-0 victory against Barça in 1932/33 and 2-1 win over Real Madrid in 1932/33.
The Englishman left Athletic for good in 1933, going back to Atletico Madrid. Pentland said he had become too good a friend to his players, making his coaching less effective. When the Spanish Civil War broke out, Fred Pentland returned to England and managed Barrow AFC before retiring fully.
But Athletic was never far from his heart and love for Mr Pentland in Bilbao stayed strong. In 1958, he attended a friendly between West Bromwich Albion and Los Leones at The Hawthorns.
Then in 1959, he was invited back to San Mames for a testimonial match in his honour, with Athletic facing Chelsea and Pentland taking a ceremonial kick-off. It is alleged that after striking the ball, Fred turned to the Athletic board members in the centre circle and said: "Now, I can die in peace."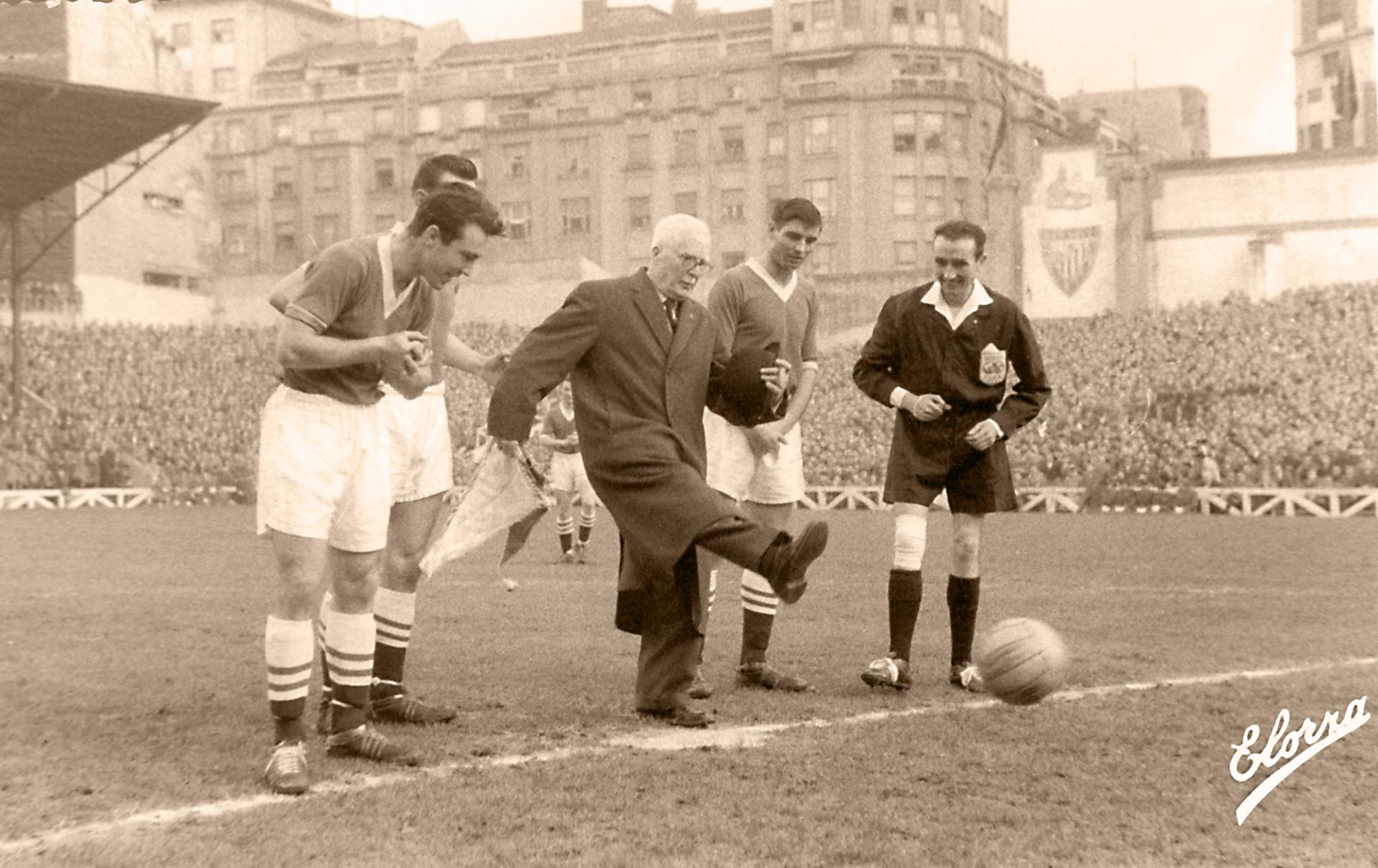 The legendary manager passed away three years later in 1962. Pentland's death led to an outpouring of grief in Bilbao and Athletic organised a special memorial service at San Mames for him.
Frederick Pentland's legacy at Athletic Club lives on strong to this day. When a group of Athleticzales in London decided to set up an official fan club, for them it felt natural to take his name and become Mr Pentland Club. Pentlanders stand out on their visits to Bilbao as they come to San Mames wearing bowler hats in his style.
In 2010, Pentland's daughter, Angela, visited The Cathedral, receiving a standing ovation while she took a ceremionial kick-off in a LaLiga match against FC Barcelona as part of the celebrations around the 80th anniversary of Athletic's first Liga-Copa double.
+