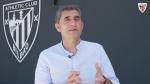 Ernesto Valverde insisted that he cannot remember a time during his seven years as head coach at Athletic when the Lions have been so dominant at San Mames in terms of their play, saying he "never felt any other team was superior to us" in Bilbao this season.
"In my seven years here, I can't remember a season in which I've had the feeling we could've won all 21 fixtures at home," the head coach said while offering his analysis of the 2022/23 campaign.
In the end those home results amounted to 27 points of the Lions' 51 on the board. Something which Valverde put down to a lack of clinical edge.
There are some impressive statistics when it comes to attacking play, such as Athletic being the team with most offensive corners in LaLiga, ahead of FC Barcelona and Real Madrid. There are also 'European' numbers in terms of producing chances.
He said: "We've played some great matches at home, but with little reward. We weren't always as clinical as we should've been."
Of course goals are all that count, but Valverde believes "the team are doing a lot of things well" and seems plenty of room for growth and improvement.
"We fought to get into Europe from the first minute until the 90th minute, from the first match until the last," he added.
"When it comes down to the final tally and you don't make it by the narrowest of margins, there's always a point of frustration. But we can't be too tempted to focus on the negative side and not acknowledge all the things we have done well.
"There are certain moments of play when we need to be calmer and sharper, especially in the closing stages of a match, where we've let slip many valuable points this season."
+