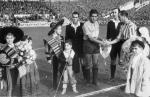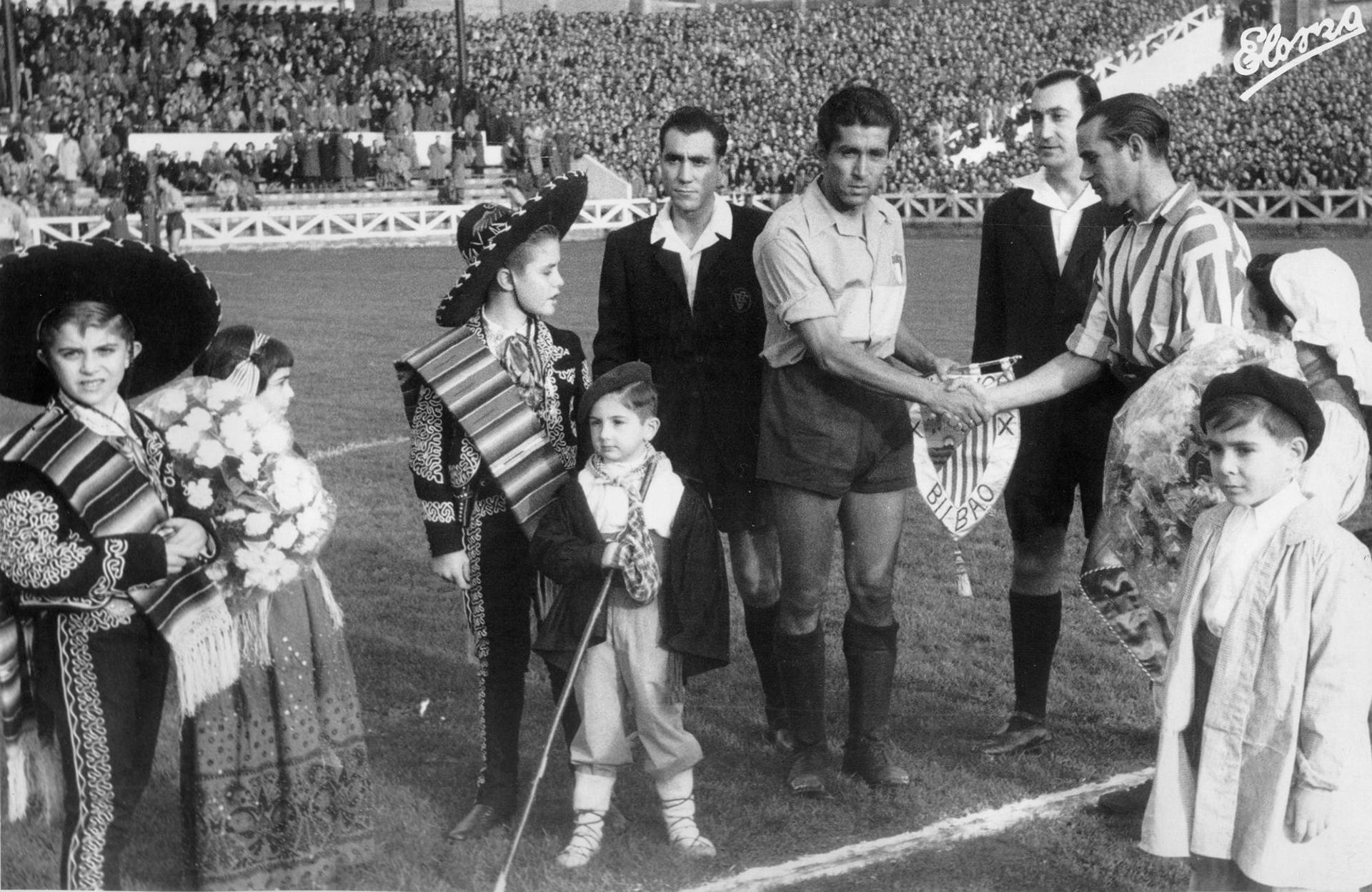 With the match between Athletic Club and Chivas de Guadalajara (San Mamés, December 11, 19:00 CET) fast approaching, we look back at the Lions' previous clashes with Mexican sides.
On 30 November 1949, 73 years ago, the Mexican senior national team visited The Cathedral to play a friendly against Los Leones. The match finished 6-3, with goals from Telmo Zarra (x3), Rafael Iriondo, Venancio Pérez and José Luis Panizo ensuring a home win.
That wasn't the first time Athletic had faced Mexican opposition. Fourteen years previously, on 28 July 1935, they took on Club América in the opening match of a tour of Mexico. Los Leones lost 2-1, with José Iraragorri scoring the Lions' only goal.
By that time, Athletic already had an enormous reputation and their visit sparked huge excitement in the country. A match report after that first meeting wrote: "No foreign team has ever received such a demonstration of sympathy and admiration from the Mexican people."
The country celebrated Club América's unexpected victory in style, and a rematch - not initially in tour itinerary - was immediately arranged. If the opening match created hype, the rematch was beyond all expectations.
Athletic won 5-0 thanks to a hat trick from Iraragorri and strikes by Bata and Edmundo Suarez. "From head to toe they were caked in mud, but the gentlemen from Bilbao remained unperturbed... Nobody in Mexico had ever seen such skills before," read an article in the local press.
First Mexican Tour
Athletic Club played three more matches as part of the 1935 summer tour.
Against Atlante the Lions lost 2-1, Guillermo Gorostiza with Los Rojiblancos' goal. The reports speak of of a sensational game, rough tactics by the home side and a misleading result, as Athletic played with ten men due to José Muguerza getting injured.
Los Rojiblancos beat RC España 2-3 in their fourth fixture of the tour. According to contemporary accounts, the match was "dull, white-gloved" and the crowd protested by throwing cushions at the pitch.
The first tour of Mexico ended with a 4-1 defeat against Necaxa. Athletic coach Patricio Caicedo, upon his return from a long voyage on the boat "Orinoco", apologised to journalists, saying: "Our players did not go there to have their legs broken."
Second Mexican Tour
Athletic Club returned to the land of the Aztecs at the end of May 1976. It began with a match against El Tri, who took revenge for the 1949 defeat in Bilbao with a 3-0 win at the Azteca stadium.
• Athletic beat the Red Sharks of Club Veracruz 1-2 in the second match of the trip, with Javier Irureta and Carlos Ruiz getting the goals.
• In June 1976, Tigres UANL of Monterrey beat the Lions 1-0 in Athletic's last match in Mexico to date.
Athletic Club has faced two other Mexican clubs since then. In September 1979, Los Rojiblancos drew 1-1 at San Mamés against Los Tecos de Universidad Autónoma de Guadalajara. Athletic head coach Helmut Senekowitsch had previously managed Los Tecos, which is what led to the friendly being organised.
Lastly, on their visit to Boise, USA in the summer of 2015, Athletic beat Club Tijuana 2-0 thanks to goals from Aritz Aduriz and Beñat. Xolos are the last Mexican opponent to have faced the Los Leones. Next up we host Chivas de Guadalajara at San Mamés, a team which only plays with Mexican footballers.